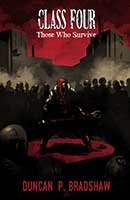 Class Four: Those Who Survive is the latest novel by Duncan P. Bradshaw in a continuous apocalyptic story. It picks up where Class Three left off and it explores several different storylines, but the main focus comes down to a man and his mission to find safety for the boy within his care. With a great handle on expression and tone, the Bradshaw introduces the reader to a new world where the only thing that makes sense is surviving.
The story unfolds in the aftermath of a deadly virus, which left the whole planet on its knees. Modern society has been pushed back to the primitive ways of the world and simply surviving deserves great recognition. Francis, who was also a character from the previous book, along with 8 year old Nathan are the first characters to be introduced. The reader meets them while they are already on their journey to safety. Through all the death and destruction that has already occurred there is a small sanctuary they need to find.
Unfortunately, their journey is filled with danger, as the dead are now in charge of empowering a different kind of justice. The reader will also be introduced to an array of colorful characters who are doing their best to work through the trauma. Within the walls of a factory and under the leadership of The Gaffer, they participate in group therapy sessions while trying to rebuild what is left.
The controversial side of the story comes in the form of Devin and his right-hand man, Malky. Together they serve a female entity as they scheme and torture their way to ruling the communities that still manage to function.
Just summarizing this book is rather challenging, because there is so much going on. The list of characters, their multiple points of interest, the twists and turns, everything flows perfectly into one big story. To top it off, Bradshaw didn't spare any mental expense when he created the people who play out the scenarios. Each one of them have such distinct features and backstories, whether it's a cannibal who eats the dead before they can return or a butch female police officer with temper issues, the degree of depth is very explicit.
Another aspect readers will enjoy is the comic relief that creeps in from time to time. Don't be surprised if you burst out laughing shortly after reading about a gruesome and cruel death, because Bradshaw has perfect comedic timing. He'll paint a very graphic picture that includes body parts, death and buckets of blood, but he'll still find a way to break the tension without losing credibility.
In terms of Bradshaw's style, it's very professional. Where several authors need to use multiple sentences to describe one specific thought, Bradshaw only needs one. His choice of words along with his creative expressions results in a powerful combination, which makes for a very vivid, engaging, and entertaining story.
For those who haven't read Class Three it might be a little harder to get into the swing of things, but it's worth it.  And there sure is nothing wrong with reading Class Three first to get the full impact.
Bradshaw is more than capable of making the reader comfortable regardless if they are accustomed to his voice. Overall, Class Four: Those Who Survive is another great installment in this ever evolving series.

Reviewed by Damnetha Jules
Damnetha  is a staff writer, horror book and movie critic.
Also by Duncan P. Bradshaw: