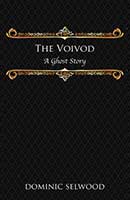 If you've haven't had the pleasure of reading a short ghost story by Dominic Selwood, then start with The Voivod. It is nothing short of amazing in terms of substance, literary quality and engagement. One might even say that the story embodies what sophisticated ghost stories should be like, atmospheric and psychological. Selwood goes above and beyond, making sure that each line either paints a picture or plays a crucial part to the overall flow.
The date is January 27, 1897, and the narrator immediately expresses his concerns after reading a letter from his good friend, Sir Oberon Worsley. In his unsettled state he conveys how he believes to be in danger and fears the act of telling anyone about it. He also shares with the reader the contents of the letter, or more specifically, the experiences of his good friend Worsley.
Worsley had just finished his long career as Bodley's librarian, a post at Oxford he cherished dearly, but before he left he acquired an early occult diary for which he needed translation. After contracting a friend and expert in the field to help make sense of the book the dire consequences of reading it becomes quite clear.
One prominent element that can be seen in Selwood's writing is consistency. From the opening sentence to the last word, Selwood practices a great control and balance. There are never moments where the reader can get mad because the author wasn't descriptive enough, or lingers too long. Along with his rather large vocabulary and descriptive choice of words the combination is very impressive.
But what is really impressive is the style of the story. It sounds more than just authentically convincing, but also accurate. In fact, the reader is taken back more than 100 years with great ease. Then there is the matter of research that goes into the story. For somebody who isn't educated in literary history it will be a daunting task to separate fact from fiction, which is also probably why the story is so convincing.
However, the audience the story speaks to is lovers of traditional English. It doesn't contain gory details about severed heads and blood covering the walls. Instead Selwood uses a more human approach. In other words, readers who prefer bloody thrills will most likely appreciate something more in the line of Stephen King.
This doesn't mean that there isn't a level of thrill or excitement. It has many dark aspects and haunting descriptions that will leave the reader dwelling on what has just been read. It is also the haunting quality that makes the story really worth reading, whether you prefer lighter reading or the highest standards of English, it's just something every horror fan should read within a lifetime.
The Voivod is definitely a recommended short story that belongs in the valuable section of literary horror, because it's more like witnessing a moving art piece rather than reading a story. Selwood has successfully added another gem to his collection and his reputation as a writer will most likely get more renowned due to this particular short story.
Reviewed by Damnetha Jules
Damnetha  is a staff writer, horror book and movie critic.
Also by Dominic Selwood: