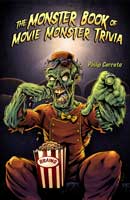 Get ready for a different type of reading experience with The Monster Book of Movie Monster Trivia. Compiled and written by Philip Cerreta, fans of all the gory monster films that range back as far as 1968 will have a great time reading through the pages. His writing style is casual and entertaining while his attention to detail is impressive.
The first chapter of the book is dedicated to everything zombie. From old favorites like Night of the Living Dead to low-budget cult gems such as Zombie Strippers, Cerreta takes trivia to the next level. Questions you probably didn't think about, like why there was such a low number of morbidly obese zombies in Zombieland, is going to come your way. The book continues in neatly organized categories and tackles just about every type of horror scenario that can be found in a movie.
For example, the second chapter is focused on monsters while chapter three covers blood sucking vampires and dead bodies. There's even a section for psychos and fairytale based creatures. In fact, I was a little surprised to see Harry Potter more than once. Cerreta even gives the aliens a bit of time in the limelight. So if you have a favorite horror category then you'll find it in this book.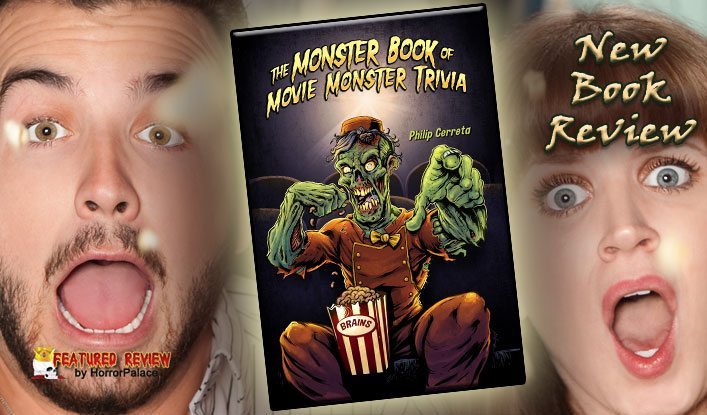 First of all, Cerreta deserves credit for compiling a trivia book based solely on horror movies. It's not something you see every day and the topic alone is enough to create anticipation. However, don't expect a typical trivia book. The author is very eccentric and obviously very passionate, which create a mixture of questions and some personal observations.
His style of writing is very relaxed and entertaining as if to create a fun atmosphere while the reader tries to reach back into those memories and find the answer. In between the trivia, he adds bits of humor and insight, but this can make things a little confusing. At some moments, it's a little difficult to distinguish between the question and his thoughtful contributions.
It should be noted that The Monster Book of Movie Monster Trivia isn't going to fall into everyone's taste. This is mainly due to the way Cerreta delivers the questions. The whole book through I got a feeling that the author wasn't mainly focused on questioning the reader. Instead, it was more a journey of enlightenment about things I didn't stop to consider. I'm ashamed to admit I haven't seen all of the movies mentioned in the book, but the author has sparked an interest to get it done. For the most part, I regard the book as a way to make questions more fun, although the balance between clarity and fun isn't always perfect.
This obviously isn't meant to be a literary masterpiece or something that should be taken too seriously. It's meant to entertain horror fans who are methodical about movies within the genre while testing some knowledge. Some of the questions are going to be a little more difficult to grip than others. For horror junkies it could become one of your favorite books.
Reviewed by Damnetha Jules
Damnetha  is a staff writer, horror book and movie critic.