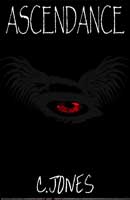 C. Jones makes her debut with the short story entitled "Ascendance", and what a debut it is. It's graphical and dark nature is enough to make veterans like Stephen King take another look at true horror. Within the pages of this book is a story that is very difficult to read. Not because it doesn't make sense or the writing is awful, but because it's just so horrific. Reading the book in one setting will take nerves of steel.
Landon is a ten year old boy that grew up in very difficult circumstances. Being the object of torture for his parents all his life, his situation finally reaches a very painful climax. After being beaten to death and buried in the backyard he lands in purgatory where a keeper called Ramiel comforts him. Landon is also told that in order to go to heaven he has to get rid of all the vengeance and hatred in his heart. Unfortunately the devil isn't going to make things easy for Landon, seeing as Landon's soul holds the key to something much bigger.
Meanwhile, his mother Lisa is planning her big escape from her abusive husband Garret. His obsession with Lisa has led to ten years of hell. Where Lisa once cared about her child, she has lost all emotional attachment. However, everything starts to escalate as Garret comes home to find Lisa cheating on him. This of course is the trigger to several bad things.
The first thing that should be noted about the book is that readers shouldn't expect too many moments of happiness and if those moments occur they are short lived. It was written from a very dark place and it's not surprising to read about how Jones had to take constant breaks in order to finish it (About Author). With the great levels the horror genre has reached thus far, Jones has managed to come up with a level of her own.
From the start the reader is thrown into a nightmare where there doesn't seem to be an end to the violence and grotesqueness. For readers that are sensitive this book will be a challenge to finish, due to the graphic build-up. Jones doesn't spare any mercy for her characters as she takes them through a life-changing journey without them having to leave the house.
As for the narrative voice and the overall tone of the writing, the author does a brilliant job. Although her characters might not be colorful, their representation of what is wrong with this world shines through in more ways than one. She digs into a very dangerous state of mind where there is creative torture tactics that really manage to unnerve the reader.
Horror fans that love deep, dark and very disturbing stories probably won't be able to stop reading. Instead of just focusing on the typical violence and horror, the story speaks to the value we place on revenge. More specifically, how revenge can bite you in the backside if you are a religious person. Apart from some scenarios that don't always make sense it's a very intense short novel that shows great potential from a debut writer.
[amzn_product_inline asin='B00PNTEP4U']
Reviewed by Damnetha Jules
Damnetha  is a staff writer, horror book and movie critic.