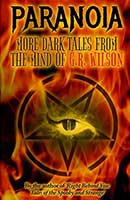 When an author makes a dedication to Anton LaVey, among other famous figures, it definitely sparks curiosity. The book is a collection of short stories entitled Paranoia: More Dark Tales from the Mind of G.R. Wilson and his inspirational sources can definitely be seen within the pages. With a rather distinct style and a peculiar choice of words Wilson takes the reader on a diverse journey filled with werewolves, ghosts, the occult and even vindictive furniture.
The introductory tale called The Full Moon's Hunt sets the pace for the stories that follow. It's a personal account of an isolated occult author and an invitation he receives to meet with a potential publisher. However, the meeting is shrouded in mystery from the start and the author ends up becoming a human target. But Wilson takes a sudden shift with the second story, The White Lady, which comes as a nice surprise. It's much shorter and only tells the tale of a lady, her dogs and the castle she shared with her daughter, whom she kept isolated.
As the stories continue they become more eccentric and creative, for example An Old Bed. The title practically exposes the murderous culprit before the story starts, but the reader is still not expecting it to unfold the way it does. Compared to the first story there is a great contrast in tone and style. One might say that it's an overall evolution from simplicity and familiarity to daring and surreal.
After reading the dedication list, which includes names such as H.P. Lovecraft and Stephen King, it's very interesting to note the subtle influences. In certain stories I expected to find more profound distinctions, but this never happened. When I reached Wing and Chelicerae the story played heavily into an atmosphere and plot that resonates the work of Lovecraft due to the scientific aspect, but the other authors were all still present so-to-speak. It's almost as if Wilson channels his different inspirations with every paragraph.
There is no question that Wilson has a very creative mind and the dark parts only make it more interesting. He experiments with several different approaches, which is a quality many readers will appreciate. In other words, some of the stories are more driven by psychological fear while others have their fair share of horrific details. The best part is that there is never really a dull moment, because you don't really know what to expect in the upcoming tale.
If this collection had to be summed up in one word it would be "versatile". In terms of literary excellence, there are some bits and pieces that could be enhanced. But then again, Wilson is obviously still in an experimental phase and when he finds his true style he'll most likely produce material worthy of "best-seller" status. At this point it's Wilson's imagination that is going to help him build a steady following of readers.
Thanks to the diverse nature of the stories most horror fans are going to enjoy the book. They might not enjoy every story, but they won't be disappointed either.
Reviewed by Damnetha Jules
Damnetha  is a staff writer, horror book and movie critic.
Also by G.R. Wilson: