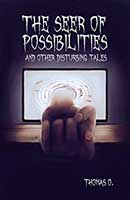 I'm going to be completely honest and say I was skeptical when I read the first few lines of "The Seer of Possibilities and Other Disturbing Tales". I'm a big believer in Stephen King's words, namely that the opening line is crucial for setting the pace for the rest of the book. The writer should always invest a lot of thought in that first word or line. And in this instance, the opening line wasn't boring, but it didn't quite grab me either. So, I kept reading, and reading, and reading some more till I finished the collection. You might not get hooked on the first page, but beware when you turn it. That's when Thomas O. gets dangerous.
The introductory story is called "The Seer of Possibilities" and it follows Jack – a nice guy everybody likes, but not somebody who stands out in a crowd. He's contacted by a strange entity through his computer, and the entity asks Jack to do a few basic things. In return, Jack gets rewarded. It's a straightforward transaction Jack doesn't see any problem with until it runs full circle.
This is followed by "Second Seer – A Story of Death and Beauty", which tells the story of two college students and a flirtatious interaction with an older man. Naturally, this interaction leads to much deeper and darker things. The collection continues with four more, very interesting stories that ultimately end with "The Perfectly Behaved Boy – A Dark Christmas Tale". And what a dark Christmas story it is.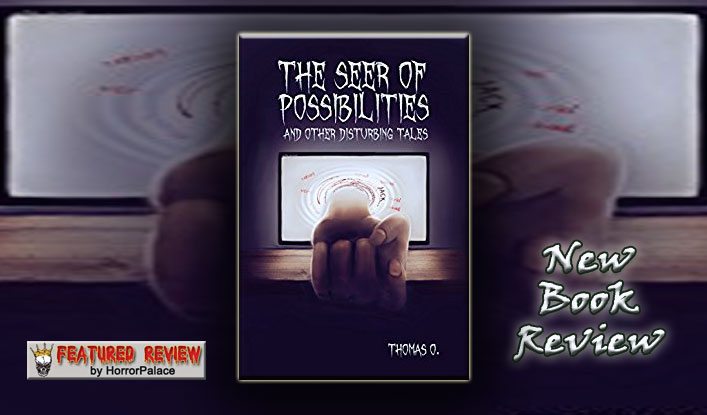 Like I mentioned in the introduction, I had my doubts whether Thomas O. would be able to keep me locked in, and he rose to the occasion thrillingly so-to-speak. Don't expect too much blood or scenes with guts flying everywhere. This collection is more focused on the mental horror, and some might say it's the most powerful kind.
Moving on to pace and technique, I really did like the tempo Thomas O. followed. These are meant to be short stories and a lot has to happen in a paragraph, which he gets exactly right. In terms of technique, I was pleasantly surprised to find the point of view switching from third to the first person and making it more personal. I also remember thinking through "The Seer of Possibilities" that a few more "power" words could've really hit home at some points, but he made up for it by the end.
Personally, I love the way Thomas O. approaches the plots and ultimately strings everything together. The dialogue was a little bit melancholy for me at times, but it didn't bother me nearly enough to stop reading. The originality of the stories alone gave me respect for Thomas O., and even though I feel he's still experimenting and finding his voice, there's a lot of talent to back it up.
In conclusion, I have no problem recommending this dark collection to readers who love the subtle horror that can possibly seep into daily life. It's for those who look for the unexpected and find something completely different.

Reviewed by Damnetha Jules
Damnetha  is a staff writer, horror book and movie critic.