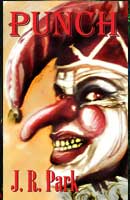 J. R. Park is the author of "Punch", a short novel that definitely justifies the title. Unlike his previous book "Terror Byte", the focus isn't so much on mystery as it is character relation. In fact, "Punch" is proof that Park is progressing as a writer in many ways. Where "Terror Byte" had some aspects and sections that didn't seem necessarily relevant to the story, "Punch" has been slimmed down. Even though I enjoyed both books, the latter is my definite favorite.
It starts with a man called Martin, who is returning to his hometown after being away for 10 years. At the age of 50 he still feels like an excited child upon seeing all the old sites. However, a sense of fear accompanies his excitement. On his first day back he befriends Polly, a newcomer to the town and the woman he falls in love with. But he also bumps into some familiar faces, more specifically, Pippa and Jo. The last time Martin saw them they were 9 years old and they are the reason he was gone in the first place.
Unfortunately, Martin's return is filled with horror instead of happiness. Long ago he used to be the beloved puppeteer who entertained families with shows that were based on everyone's favorite character, Mr. Punch. Now he is shunned and ostracized because of what happened ten years ago. As the story unfolds Martin has to deal with numerous problems within the community, and no matter how hard he tries to conceal his identity, everyone recognizes him. Apart from the nightmares that haunt him, he loses his new found friends in addition to everything that he owns thanks to two little girls. Ultimately he breaks down and goes on a rampage the town of Stanswick Sands will never forget.
This is somewhat of a difficult book to review, because the slightest detail can be considered a "spoiler". But at the same time it's a great book to write about given the progression. The small amount of mystery that surrounds Martin and the two girls doesn't take long to come to light, showing that Park decided to build the story on emotion. Anyone who reads the book shouldn't be surprised if they feel torn between what they believe is fundamentally right and sympathy for Martin. His rather graphical nightmares effectively place the reader in an uneasy position for some time, or at least until the truth comes out.
Once I reached clarity regarding Martin's situation, it was difficult not to feel his anger and frustration. One can even say that his actions that followed were completely natural. Halfway into the book I found myself wondering whether it actually falls into the horror genre, but these thoughts were quickly put to bed as Martin picked up his bat and lost his sanity.
Parks did an all-round great job with this book. His timing was precise and he even addressed a scenario that holds many bias views. Apart from the unnerving violence and graphical descriptions regarding busted heads, the reader will definitely think about the way in which a society functions, especially when it comes to small town communities. During a large part of Martin's killing spree I found myself almost justifying his actions.
Reviewed by Damnetha Jules
Damnetha  is a staff writer, horror book and movie critic.
Also by J.R Park: