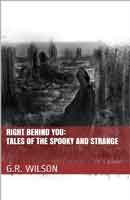 "Right Behind You: Tales of the Spooky and Strange" is a book that features nine exciting, easy to read short stories that are just as the title describes – spooky and strange.  The author, G.R. Wilson, does an excellent job of varying his writing style to bring a new flare and fresh feel to each tale in the book.  The stories are all very different, with some being scary in a subtle way, some being simply strange and interesting, and others being terrifying and borderline gruesome.  Having the many short stories creates excellent variety, really showing off Wilson's ability as a writer and making the tales fun to read.
The book contains a collection of nine short scary stories in total.  They are fast and easy to read, vary significantly in terms of plotlines and characters, and are well written.  The storylines range from tales of children encountering Sasquatch to violent fights on a fishing boat while stranded out on the open waters.  Wilson does an excellent job of creating a wide range of stories with unique and creative plotlines.  He keeps readers guessing and engaged, making it hard to put the book down instead of reading the next story.  My personal favorite tale in the collection is called "Fang and Claw," the sixth story in the group.  The story revolves around a ranger on a lone mission in the mountains and the plot itself is told through a series of journal entries written by the main character.  He describes petrifying and unusual events happening in the mountains, including the discovery of demolished deer, pig and bear carcasses and clues that suggest there is a monster living in the area.  Humans begin going missing too and the brave ranger, all alone for the vast majority of the time, sets out to protect the public while putting his life on the line.
"Right Behind You: Tales of the Spooky and Strange" delivers on what it promises to provide readers in the title.  The tales are definitely nothing short of spooky and strange, and they are written in a fast paced yet simple way.   They are extremely easy reads that keep readers minds racing.  Wilson's short stories are perfect for reading when there is limited time because each individual tale requires a minimal time commitment.  I loved that I could easily put down the book after a story and pick up with brand new characters later on in the day.
What is most impressive about Wilson's writing is his ability to develop interesting characters that the reader can feel connected to using a very limited amount of text.  He does an exquisite job of breathing life into the characters using a combination of dialogue and descriptive text.  Each story and the individuals within the stories are well thought out and introduced to the reader in a meaningful way.  Furthermore, Wilson does an excellent job of varying his writing style to suit each individual story and its respective group of characters.  He adapts his writing style constantly, changing the feel from casual to intense to formal as needed.  Overall, G.R. Wilson writes beautifully in this book and really adds character to each page.
In summary, I would definitely recommend this collection of short stories for readers who enjoy scary reads, for campfire tales and for casual everyday readers.  The nine stories in "Right Behind You: Tales of the Spooky and Strange," written by G.R. Wilson, are satisfying and exciting short reads.  Each plotline is completely different and Wilson does an incredible job of bringing each new group of characters to life.  The quality of writing is superb and the Wilson really flaunts his ability to write using many different styles throughout the book.  These short stories are excellent for people with limited time, for those who enjoy reading short stories as opposed to lengthy novels and for individuals who cannot resist a good scary story.  Best of all, every single story is an exciting, scary and fast paced read that promises a brand new, unique and creative tale unlike others readers have heard or read before.
[amzn_product_inline asin='B00G4TJYAS']

Reviewed by Damnetha Jules
Damnetha  is a staff writer, horror book and movie critic.
More Horror Book Reviews