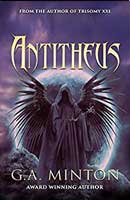 G.A. Minton, award winning author of the book Trisomy XXI, delivers his second supernatural horror novel entitled Antitheus. The stage is set in the Sierra Nevada Mountains, and it focuses on a group of clergymen who get slaughtered while attending a conference. Minton does not take very long to get the action started, and from the first page, the eerie atmosphere is created. And with a surprising twist at the end, Antitheus puts you through a rather unnerving adventure.
Zeke Reinhardt is the poor innkeeper who houses a group of clergymen while attending a conference. After losing the love of his life to a terminal illness, he has kept the place going without much enthusiasm. Now, he goes through his daily routine, only to find one of the holy men dead in room no. 22. After composing himself through the horrific scene, he calls Sheriff Parker, who makes it to the inn just before a blizzard strikes.
What the sheriff finds is more than just a typical murder scene, and the longer they stay, the more clergymen are going to die. The only problem is nobody knows who or what they are up against.
Great control is the first thing that comes to mind when I think about this particular book. Minton has a crisp and clean style that describes enough of a scene to make it interesting, but he does not spend time on overkill detail. In terms of pacing, I prefer shorter and powerful novels, so this was right up my alley. I liked the speed with which the plot developed, along with the characters. Overall, it is clear that Minton has more than just a knack for writing a good story.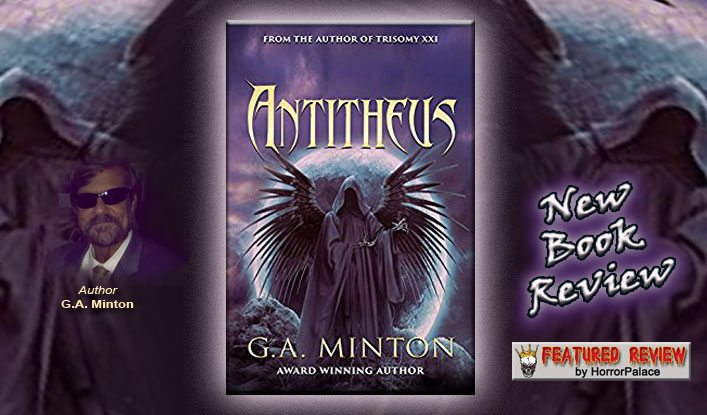 However, I do have two things that took away some of the reading enjoyment. Firstly, I did not get into the characters as much as I wanted to. Even though Minton sells them perfectly, I think it is just a matter of not being able to relate to one of them in particular. Of course, for a different reader, this will be a completely different situation.
Secondly, the plot foundation Minton chose is a little rundown, making it a big challenge to really create something spectacular. For me, it was somewhat of a let-down. But, on the other hand, he hits those horror beats like a pro, satisfying those moments of adrenalin many readers actively look for and expect. I should also add that Minton delivers a very interesting twist that will leave a lot of people shocked.
I honestly cannot give Antitheus a strict horror label, because it embodies so many different elements. There is the slasher-film premise, the historical God vs. the devil confrontation, and a hint of Sherlock Holmes, all thrown together for a very interesting read.
When it comes down to it, I will recommend Antitheus to those looking for a quick and easy read, without having to compromise on quality and style. Minton is very good at what he does, so make sure to lock the doors before you start reading.
Pause RadioHalloween.com by clicking on control under "Radio Halloween" (upper far right)
Reviewed by Damnetha Jules
Damnetha  is a staff writer, horror book and movie critic.
Also by G.A. Minton: