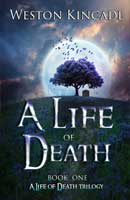 A Life of Death is not your typical horror novel, but it can definitely pass as a very suspenseful and sometimes gruesome read. Weston Kincade is the author of the series, A Life of Death being the first book in the trilogy captivates his audience by tapping into a slightly old-school style of writing. Kincade makes it easy to get lost in the pages and delivers thru on several hair-raising moments.
Alex Drummond is a teen outcast. He does not fit in at school, and with no thanks to his abusive stepfather and brother, he does not fit in at home either. For Alex, waking up from a nightmare is not all that satisfying. However, he possesses a gift that changes everything about his misfit life. He also befriends a girl named Paige, who ultimately comes to care for Alex a great deal, and brings a little hope into his life.
His gift is experiencing the last moments of a person who died, simply by touching whatever they held at the time of their death. And naturally, this begins to sound like a "calling" towards bringing some justice back into the world. The only problem is, Alex, cannot prove anything through his visions.  However, making matters worse, he can tie a crime to the most influential people in town.
Off the bat, this was a very easy read. The pacing was consistent and Kincade keeps hitting the beats that make you want to turn the page. I have not read many supernatural detective books, but I have no doubt that A Life of Death is among the best ones. But is everyone going to agree?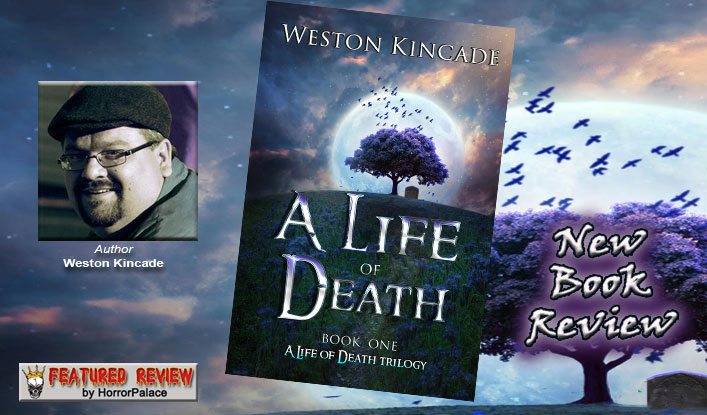 While the book is very easy to read and seems to go by very quickly, it can feel a little more focused towards a younger audience at times. I have no way of telling whether Kincade wanted to attract a younger audience, but the way the plot progressed and the social issues it tackled along the way did have an "inspirational" undertone.
In terms of characters, Kincade is obviously experienced at making them believable, and it becomes evident after reading the first page. It does not take him very long to paint an image or perception of a character in your head as if they are real and living in your neighborhood.
As for plot originality, this is a 50/50 split. Even though I do find the plot original, I also noticed a familiar pattern and yes, one or two moments were a little predictable. But I think this balance was intentional because it was executed with great precision.
I would recommend this book to readers who love supernatural thrillers, instead of hardcore horror fans. As I said, there are enough thrilling moments, but the graphic side of Kincade is not as forceful or dark as most writers within the horror genre. He is incredibly talented and he tells an amazing story, but based on this book alone I think it borders on the lighter side of horror. Whether that is a good thing depends on the reader.
Either way, the book is very entertaining and speaks to many valuable lessons society needs to pay attention to.

Reviewed by Damnetha Jules
Damnetha is a staff writer, horror book, and movie critic.
Also by Weston Kincade: