Netflix has been great as an alternative for horror movies.  The "on demand" feature makes them available day and night (night is always better!).  To help refine your search and keep you up to date with the top Netflix horror movies, here is the HorrorPalace.com list of what is currently the Best Horror Movies on Netflix: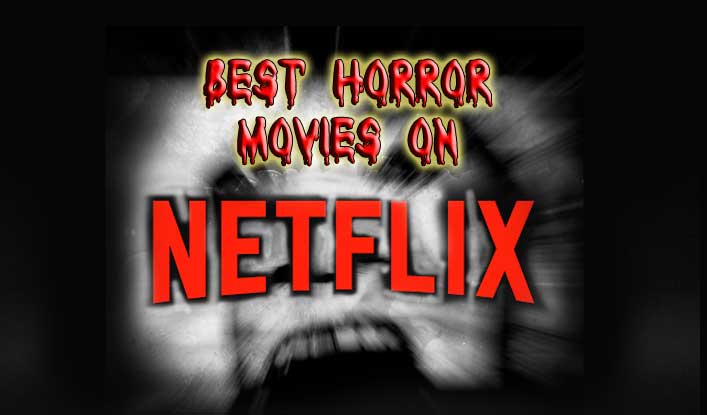 BEST HORROR MOVIES ON NETFLIX – FEBRUARY 2017
15. Cujo
While not a supernatural horror film, Cujo is still a quality thriller filled with many edge-of-the-seat moments. The premise is simple – a helpless mother and her son are stuck in a car with a giant, rabid dog trying to attack and kill them from the outside. The movie's pace deserves a special mention here, as it just pounds you with one violent scene after other.
14. The Babadook
A widowed mother and her son are haunted by the Babadook monster, which wreaks havoc in their life. The movie is unique in the sense that it manages to scare the hell out of you without the use of excessive gore and violence. Much of the fear is psychological and the movie is intensely suspenseful until the last scene.
13. Hush
A deranged killer stalks a helpless girl and tries to kill her. Sounds like the plot of many a thriller movie, right? But Hush stands out from the rest because the helpless girl here is truly helpless – she is a deaf mute. While we can hear everything the stalker says, the girl can't, which compels us to feel scared for the girl.
12. Housebound
After trying to rob an ATM machine, the female lead is sentenced to house arrest in her family's home. As if living with a family she doesn't get along with isn't punishment enough, she soon finds she may be living with ghosts too. This horror film is both terrifying with some humor thrown in.
11. Starry Eyes
Starry Eyes is a crowd-funded movie that fared quite well with both viewers and critics alike. Starry Eyes follows an aspiring actress, Sarah, and her journey towards stardom. Her day-job as a waitress at a significantly questionable restaurant leaves her pretty unfulfilled. Furthermore, Alex isn't someone with many true friends. Her fate takes a turn for the bizarre after she shows up for an audition that requires more than just acting. Her transformation to stardom requires a high cost, quite literally her soul, which she gladly hands over.
10. Dead Silence
This is a movie that James Wan made before he hit gold with Insidious and The Conjuring. While not as scary as the latter, Dead Silence has an interesting plot and some quality jump-scares. It is about a dead ventriloquist who seeks revenge by ending the bloodline of the family that killed her. The creepy dummy Bill acts as the conduit and she kills anyone who screams and spares the ones who keep their mouth shut. Pretty considerate for a ghost, wouldn't you say?
9. The Invitation
The Invitation is about a dinner party that turns awry when it is revealed that the hosts are part of a brainwashing cult and try to kill their guests. The movie is not well known to the mainstream audience as it only had a limited theatrical release, but it is a top notch thriller. The movie is filled with intense, edge-of-the-seat moments that are full of suspense. The well fleshed out characters and the near perfect performance of the cast make this indie movie a horror classic.
8. The Awakening
The movie deals with Florence Cathcart, who debunks alleged supernatural occurrences. When she goes to a school to investigate a ghost sighting, she gets the shock of her life as she comes to know about a dark passage from her childhood. The movie is dark, brooding, and scary to boot.
7. The Hallow
A conservationist and his wife and son head to a remote Irish village in the middle of a forest. Strange things begin to happen as he comes to know about a legend called The Hallow. Soon, the entire family is attacked by strange creatures and they struggle to get out of the forest alive. A dark setting, plenty of jump-scares, and a final scene that will have you fervently hoping for a sequel make it one of the best horror films in recent times.
6. It Follows
It Follows brings a rather strange aspect to the forefront, because it involves a one-night stand that has to keep going. A college student by the name of Jaime is unaware that sleeping with her boyfriend will pass on a haunting experience. After tying her up and informing her she'll be stalked by an evil spirit until she sleeps with somebody else, Jaime's hell begins to unfold. Apart from the interesting plot, you can settle in for some very close calls that will keep you at the edge of your seat. The film has a "slasher" feel to it, so if you enjoyed movies like Scream and I Know What You Did Last Summer, you'll definitely enjoy this one.
5. Wes Craven's New Nightmare
Wes Craven takes a meta-fictional approach to scale new heights of horror in this movie. Freddy Krueger is back, only this time he haunts not just the dream world, but the real world of filmmaking as well. Freddy is more menacing in this film than the original, which makes the movie all the more special.
4. Hannibal
Who can forget The Silence of the Lambs? With Anthony Hopkins in the leading role of the cannibal serial killer, it's no surprise why the film is a cult classic. But the story continued with Hannibal, and yes, Hopkins is back in the driver seat as the hungry Hannibal Lector. But there's a strange twist this time round, and it's the romance blooming between Hannibal and the police officer he focused on in the first film, Clarice Starling. Despite having a new director and screenwriter, Hannibal captures the same unnerving feeling as the first film.
3. Dream House
After a man finds a dream home for his family, his life soon turns into a nightmare. He feels he and family are being harassed when strange occurrences begin to happen in his home. New discoveries lead him to the conclusion that the house is being stalked by its former owner, a suspected murderer.   Of special interest from the start is the thematic bluish coloring.  Once you notice it you will be watching for it throughout the movie – and it is nearly always there.  Sometimes the bluish color is merely a tinted reflection in a receptionist's hair.  This really has much to do with horror directly, but the color certainly creates a subconscious feeling and tone.  This kind of details that go into movie making is always a great thing to see.  And something not likely to appear in the "home movie" or "found footage" type drivel.
2. Lizzie Borden Took an Ax
Based on the real murders that took place in the late 1800's, Lizzie Bordan Took an Ax is a television movie with more than just one dark side. Bordan's parents were hacked to death and till this day she's the prime suspect who got away. The movie and case have many interesting aspects, because the evidence left a lot of doubt and made Lizzie a household name at the time. Christina Ricci plays the role of Lizzie Bordan and she does it brilliantly.
1. The Shinning
It's probably one of the best horror movies ever made, and it's based on one of the best horror books ever written by none other than Stephen King. Directed by the methodical Stanley Kubrick and starring Jack Nicholson, prepare yourself to enter a hotel with more horror than your nervous system can handle. Nicholson plays the role of Jack Torrance, a guy who accepts the job as caretaker of the Overlook Hotel. What he doesn't know is that the hotel is pretty much a mass grave. He takes his family with him, only to eventually chase them around with an axe. If there's one movie that will have you sleeping with the lights on, it's The Shining.
You might also want to check out our honorable mentions:
Honeymoon
This is more of a science fiction horror, but it's a horror nonetheless. It follows a couple of newly weds who end up spending their honeymoon going through a very strange and dangerous separation.
Hellraiser
This is one of those classics you just have to watch, because it's as strange as it is scary. The villain of the story is called Pinhead, and the story begins with a mysterious puzzle box getting solved, which unleashes Pinhead onto the world.
Jaws
We all know the story line, but its a fun movie to go back and check out!
Creep
As the name suggests, this is definitely a creepy film and it should make anybody weary of accepting jobs on Craigslist.
We Are What We Are
This is a film that looks at cannibalism as part of the family tradition. If you thought teenage girls are harmless, take a good look at this film and try to stick to your theory.