and Why they are so Scary!
Also see below for our continuously updated "Scariest Horror Movies" in various categories. 
Before horror movies, horror was an ancient art form.  Scary stories have been popular since people began telling stories to each other.  The Greeks were famous for their horror stories and today people still tell horror tales if nothing more than urban legends.  One reason they endure is because of the "escape" element beyond most people's mundane everyday lives.  There is definitely an adrenalin (emotional) rush by hearing a scary story.  From a societal-psychological level, horror stories actual do reinforce norms, and expose taboos of society.  The social gratification occurs as nearly every "horror evil doer" suffers their just fate – no matter how many times they return in sequels.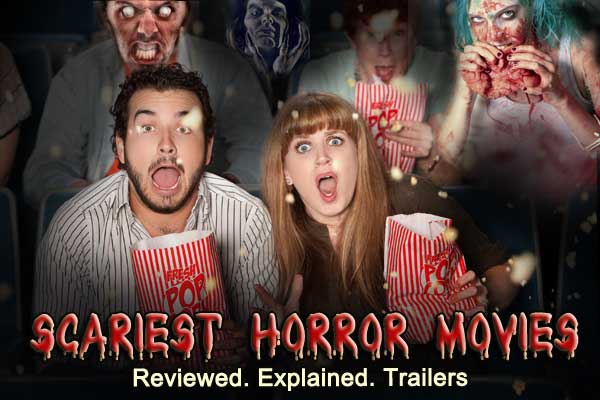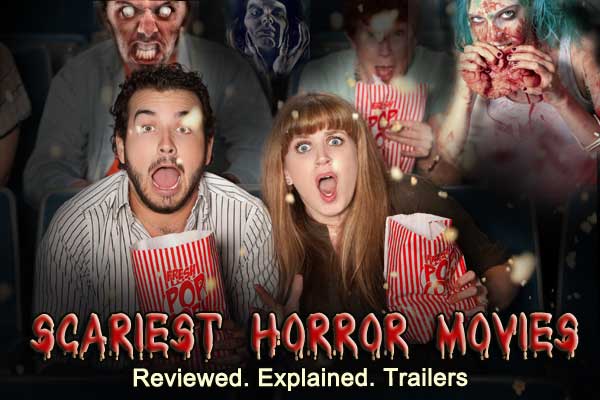 Horror movies are a progression of scary story telling.   It is no longer necessary to search out the good story teller, but the good movie as a package of story in visual and auditory form.
Today, there are many scary horror movies to choose from, and more added everyday.  The list is interminable, so what we have done is consider every horror movie we know, and selected what we believe to be the scariest and explain why.
One of the strongest elements a scary movie has going for it is the same as any good joke – "the element of surprise."  With a joke, it is the punch line, with a movie it is the unexpected scary event.
Like a joke, a movie loses its impact after you have heard/seen it.  This is great for fueling more "new" horror movie releases.  However, on some movies, an appreciation (entertainment factor)  evolves beyond the "surprise" scare factor, making it enjoyable to watch again – and again.  Some of this may be the recollection of the feeling you had the first time you saw the movie, much like reminiscing a specific great time/event with friends.
Scariest Movies of All Time
The Exorcist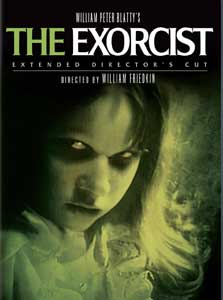 The Exorcist is regarded as one of the scariest movies of all time. When it first came out in 1973, it left audiences horrified because they had never seen a movie quite like it. It was made back in a time where computer animation and CGI weren't a thing, forcing a lot of creativity visually. Even today the film continues to scare a modern audience for its realism. With its horrifying visuals, great cast and it's creepy iconic theme song, The Exorcist is one of the most horrific films ever created for being near flawless while setting the standard for other horror films.
The film revolves around Christine McNeil, a famous movie actress and her 12-year-old daughter Regan in Washington DC. One day after playing with an Ouija board, Regan begins to act strange. As time progresses her attitude drastically changes for the worse. She becomes violent and verbally abusive toward everyone she comes in contact with. While that's going on, we see a young priest at a nearby university who is beginning to have doubts about his faith. He will eventually be called the McNeil household, where he will have to perform an exorcism on Regan in an attempt to get demons that has attached himself out of her.
When Ragan becomes possessed by demons, it's the scariest part of the movie. It's not too violent, but it has a more physiological approach to it's creepyness in how she describes things in graphic detail. Her eyes are completely white and her skins has a pale appearance to it. And she has cuts all over her face. She even projectile vomits green slime at people. It's a very disturbing and sickening thing to see.
The sounds in this film, from the theme song to the voice of Regan while she's possessed is very creepy. The theme song for The Exorcist regarded as one of the most iconic songs to any motion picture. It's a song everyone has heard and automatically associate the song with horror. Every time you hear that piano playing it sends chills down your spine and you know something evil is present. And then Regan's voice becomes deep after the evil spirit and is very vulgar and aggressive. Every word that comes out of her mouth will creep you out.
This is truly one of the greatest horror movies of all time, a definite top five pick for any list. Literally dozens of films have attempted to capture the films same level of creepyness but most of the time fail. It still holds up after all these years and has proven to be a timeless horror classic. If you're a fan of horror and you have yet to see this film, make it the next one you watch.
Before playing pause RadioHalloween.com on far right sidebar under search box.
The Texas Chainsaw Massacre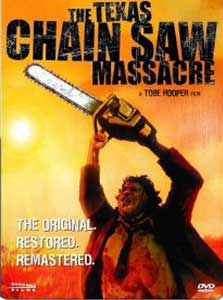 One film that continues to terrorize audiences forty years after it's release is The Texas Chainsaw Massacre. It features one of the most recognized characters in horror movie history and is a very disturbing film that'll keep you suspended and freaked out all the way through.
The film follows a group of five friends, who are traveling through Texas to visit their grandfathers grave after hearing that it was vandalized. While making their trip, they come across a strange hitchhiker and decide to give him a lift. He takes a polaroid of the friends and then wants money for the picture. When they decline, he attacks them and the group forces him out. This run-in would only be the begging of many others in an unfortunate journey of gruesome violence and death.
The fact that this film is so old makes it even scarier today. Since this film came out over forty years ago, and as it was designed, the video quality is grainy and kind of gives it an old, historic feeling to it. It has an atmosphere to it that's highly disturbing and gives the film a very creepy theme to it. In addition, the music helps create the unsettling feeling this movie has.
This movie introduces one of the scariest horror villains ever, Leatherface. As you could no doubt tell by the films title, his weapon of choice is a chainsaw. This film features a lot of violence that is off-screen. But the overall theme of cannibals, serial killers, grave robbers and a chainsaw-wielding madman still makes for a very creepy and suspenseful movie that'll keep you on the edge of your seat. It's one of a few horror films that really freak you out that isn't a bloodbath. Every time you hear that chainsaw revving up, it'll send chills down your spine as you know someone is going to get killed.
What's most frightening about this movie is that it's totally plausible. Unlike exorcism or zombie films, anyone could potentially be unlucky enough to run into a serial killer or a crazy family. And that fact is this film is based around a real man who existed adds an extra touch of freakiness. His name was Ed Gein, and he would frequently visit graveyards to dig up bodies and use their flesh and bones to make furniture, art and other macabre-themed works. It's one of the most disturbing non-fictional stories ever to be turned into a motion picture.
Overall this is an excellent and very creepy film. It was a landmark film because it was such a huge hit at such a small budget. This was one of the very first slasher films to be made and revolutionized the genre. It's one of the scariest movies of all time and highly recommended.
Before playing pause RadioHalloween.com on far right sidebar under search box.
The Conjuring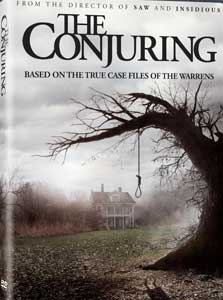 Horror films based off true events are some of the scariest for the supposed truth of the story they tell. In the case of The Conjuring, it tells of a family who became haunted shortly after moving into their new home. This film was directed by James Wan, who has directed other great horror films including Insidious and Saw.It's a totally creepy film that features lots of shocks and surprises and is one of the scariest films to be released in many years.
The film is set in the early 1970's most of the way through. The Conjuring follows two groups of people. It starts with the Warren's, a couple who are renowned paranormal investigators and considered to be the best at what they do. It also tells of the Perron's, a family of five who have just moved into their new home. Shortly after they arrive, they notice odd things are happening in their home. First the family dog refuses to enter the house, then one of the daughters finds a creepy music box in the back yard. The first night they discover a hidden basement full of mysterious items. As the story progresses, the two couples will work together to find out if anything is going on that's out of the ordinary in their home.
We're treated to a whole lot of freaky things in The Conjuring. It's full of instances where demonic faces pop out from the dark, spirits physically abusing people and scaring children at night among other things. As the film moves on it gets a lot worse. At one point someone becomes possess by an evil spirit and is probably the most disturbing part of the movie. The house they live in is old and dark, giving it full of creepy atmosphere and gives it a dark tone that's very disturbing.
The creepiest element in this movie is how closely it followed the actual event. Ed and Lorrain Warren were a real duo of paranormal investigators. They did visit the Perron's home where they documented a lot of strange occurrences.  And to add more credibility to the film, they got the real Lorrain Warren to consult the film to make sure it was as true to the real event as possible. That's not something every horror movie based off real events do.
Featured in this film is a haunted doll that goes by the name Annabelle. It's perhaps the creepiest doll ever in a movie. If you thought Chucky from Child's Play was scary, you'll really get a spook from Annabelle. She has huge brown eyes with a big creepy smile. She also has red makeup on her skin that looks rotted and has cuts and scrapes on her face.
This movie is probably the most disturbing to come out in a decade at least.There's no gore so it doesn't try to gross you out. In enough time it'll be considered another classic like Poltergeist. The Conjuring is a terrifying movie that's highly entertaining.
Before playing pause RadioHalloween.com on far right sidebar under search box.
The Silence of The Lambs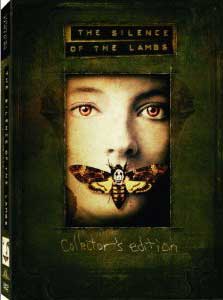 After winning an impressive five Academy Awards including Best Picture, Actor, Actress, Screenplay and Director, The Silence of the Lambs is considered to be one of the scariest suspense thrillers of all time, and deserves that honor for it's near flawlessness. From beginning to end, every element of the film from it's characters to its story is very creepy.
The Silence of the Lambs revolves around Clarire Starling (Jodie Foster) who is an FBI agent that is sent to a prison for the criminally insane to interview convicted serial killer Dr. Hannibal Lecter (Anthony Hopkins) in hopes that he may reveal information on the actions and identity of Buffalo Bill (Ted Levine) who is on a murdering spree throughout the country, killing women and then skinning them. Buffalo Bill then kidnaps the daughter of a U.S. Senator and it  then becomes a race against time to see if they can capture the elusive killer and rescue her before any harm is done.
Every member of the cast puts on a convincing and creepy performance. While Jodie Foster does a great job as FBI agent Starling, Anthony Hopkins deserves the most praise and recognition as the psychotic cannibal Dr. Lecter, who is often called 'Hannibal the Cannibal Lector'. While he doesn't have much screen time during the film, every second that's focused on him is disturbing. Jodie Foster displays just the right mix of emotions of discomfort and fear when around Dr. Lecter and share a very interesting bond with him. Ted Levine who plays Buffalo Bill also does an outstanding job as a creepy deranged killer who is an emotional wreck. You can just feel the menacing atmosphere whenever he appears on screen.
This film is director Jonathan Demme's best work. He's very successful at setting creepy and disturbing settings throughout the film. The soundtrack was composed well by industry legend Howard Feuer, who's also known for composing the soundtrack to The Lord of the Rings trilogy. It serves as an additional aid in creating the disturbing theme of the movie.
The ending to this movie is very suspenseful, definitely one of the most suspense-filled enders to any motion picture. Everything builds up to a climax that will leave you on the edge of your seat. But it does so without getting violent or gory like other films. And just before the credit role, we are left with a creepy cliffhanger, allowing viewers to interpret it however we see fit.
The Silence of the Lambs is debatably the best serial killer themed film ever, despite it not actually being a true story, but instead very loosely based around serial killer Ed Gein, who supposedly inspired other works of cinema including The Texas Chainsaw Massacre and Physco. It's suspense keeps viewers highly entertained throughout the whole picture. This film is a must see for any fan of horror, crime or suspense films.
The Ring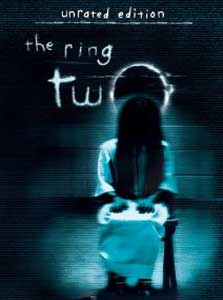 In 1998 a low budget independent movie was released in Japan called Ring. It was a very disturbing film and went on to become Japan's highest grossing horror film of all time. Four years later, the films success eventually lead to the creation an American version, The Ring. It achieved something that a majority of horror films are unable to achieve, which is being as frightening as the original work it's based off. This is a film that has a lot of disturbing features, including imagery and atmosphere that truly makes it one of the scariest films to ever be released.
The story follows a news reporter by the name of Rachel Keller (Naomi Watts) who is investigating a mysterious video tape that is apparently responsible for the suspicious deaths of several teenagers, with one being her own niece. There is an urban legend behind the tape, which is that anyone who choses to watch the tape will meet their doom within the course of seven days. After discovering the tape, she watches it with her young son and now must race against time to figure out how the victims died, and how to save themselves.
This movie stands out from most horror films due to one element that so many other films miss; the psychological component. The film uses some very dark imagery that are very unnerving and often times leave you with uncomfortable feeling in your gut. Some of these include a man being electrocuted while standing in a bathtub, a woman jumping off a cliff to commit suicide, several instances of severed fingers and more. This is not a film that has a heavy emphasis on blood and guts, which in part makes it stand out from a lot of horror films we see today.
As previous stated, atmosphere plays a big role in making this film creepy. The video tape itself is the most horrific part of the film. The music is another element that does a very successful job and making situations a whole lot more intense. The film also has a very good pace to it. It doesn't move to slowly or too quickly, which is something that's very important to a horror film as some other movies tend to get too slow.
This is one of the very few instances in which a movie that's a remake can actually be just as frightening as the original. If this movie doesn't freak you out in one way or another, there probably doesn't exist a film that can. There are a lot of moments where this film will get under your skin. All fans of horror and psychological films will get a lot of entertainment from The Ring. And to those who are really interested, finding a copy of the Japanese version might also be worth your while.
Before playing pause RadioHalloween.com on far right sidebar under search box.
Halloween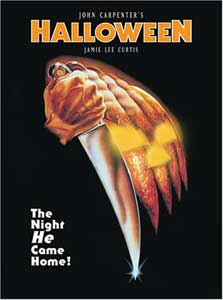 Director John Carpenter has created some real masterpieces of horror. Along with The Thing, Halloween is one of his most horrifying movies of his career. This is one of the scariest horror films of all time and is a guaranteed good time for any true fans of horror.
The film begins with a murder in small town America. Cops arrive at a home to find a fifteen year old girl has been murdered. It's immediately clear that the girls younger brother, six year old Michael Myers, is the one who stabbed her to death. He's arrested and is sent to a mental institution. After serving over fifteen years for the crime, Michael escapes from the institution the day before Halloween. Now running loose, the authorities must stop Michael Myers before he can stab and kill anyone else.
Halloween introduces a very familiar character to the horror genre, Michael Myers.He's considered to be one of the scariest slasher villains of all time and continues to star in new movies. With a white mask and prison jumpsuit, his appearance is very creepy in this movie. Michael goes on his rampage after sunset, making it very difficult to see him. We never know where he is hiding and when he is going to come out of the darkness and attack one of his victims. It'll really keep you on the edge of your seat.
Another element that makes this a frightening movie is its soundtrack. The theme song is one of the most recognizable of any film, let alone any horror movie. While a lot of the songs are very simple and not exactly complex, it's still highly effective and does a very good job at setting the tone for the movie and contributes a lot to the creepy atmosphere of it.
The level of violence in this film isn't extreme, but still is effective at being disturbing. What's included are people being hacked to death with a large knife, along with people getting their throats slit. It's also a film that falls under the plausible category. Unlike some horror films like Dawn of the Dead, the events that happen in this movie are real possibilities. Serial killers are not limited to works of fiction and roam around the same society as us, which makes films like these more freaky. You hear something go bump in the night outside a window, could it be another Michael Myers?
This was a brand new kind of film for its time and still continues to be one of the creepiest movies of all time. Slasher films don't necessarily change much as time goes on, there is still a mad man or men with knifes or machetes being their weapon of choice. Michael Myers is still one of the best slashers in history and this film does his menacing character justice.
Seven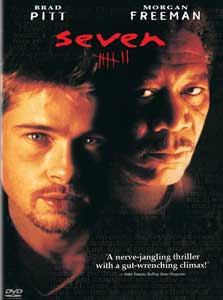 Adjectives you would use to describe the film Se7en would be dark, disturbing, and freaky. It's a suspenseful murder mystery that is heavy on creepy atmosphere, dramatic acting and disturbing music that sets the tone perfectly. This is a film that's highly successfully at making a shocking impression that'll keep you hooked and on the edge of your seat while creeping you out.
The film revolves around two detectives. Somerset (Morgan Freeman) is the experienced detective about to retire and Mills (Brad Pitt) is the younger one whose to replace Somerset but still has a lot to learn. The both of them get caught up in a very graphic murder crime which delays Somerset's retirement. Both have different opinions about the crime when another murdered body is discovered and the two are found to be linked. They soon realize they have a serial killer on their hands and must stop him before he can do anymore harm.
One area where this film really shines is in its creepy atmosphere. The opening credit sequence is one of the creepiest ever in a movie and sets the tone. The sketchy editing along with the great theme song and the visual images make it macabre. The film uses great use of lighting to create shadows and silhouettes of the characters. In every outdoor setting it's either overcast or raining profusely, giving it a more creepy feel to it. It's so creepy it's an art by itself and is one of the best atmospheric designs ever in cinema.
The second greatest element of this film is the music, which is just phenomenal in keeping us in suspense and creeped out. In one scene in particular, detective Somerset visits a library after hours to do some research on clues he discovered at one of the crime scenes. While that's going on, we're treated to upbeat classical music while he is looking at graphic book illustrations. The dark images along with the slow upbeat music gives the whole scene a disturbing feel to it.
The crime scenes are very dark and realistic, with the dead bodies we see being very graphic and disturbing. The victims involved have suffered a wide range of torture, from slicing and stabbings to being beaten or even having a portion of their skin removed. It's more graphic than other murder mysteries, such as The Silence of the Lambs. In one scene the detectives come across a body that looks decomposed when all of a sudden the body violent starts shaking. It's a scene that will really make you jump out of your seat if your not constantly on the lookout with this movie.
Se7ev is one of the most chilling murder mystery films ever made. The amount of detail given in the sets is extensive, adding a new depth of realism into the movie which makes it scarier. It has you constantly looking out for who is going to be killed next (and for what reason) while trying to figure out the man behind the killings. It's a movie any true fan of horror can't afford to pass up.
Before playing pause RadioHalloween.com on far right sidebar under search box.
Rosemary's Baby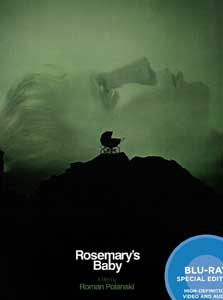 One of the greatest film directors of all time, Roman Polanski, released his first American film in 1968, Rosemary's Baby. It was based off of the best selling novel that came out the year before of the same name. The novel was highly praised as being a masterpiece of the horror genre and sold over four million copies, making it also one of the best selling horror novels of the decade. Creating a horror film based off a novel and making it just as terrifying is something that is not easily done. But Polanski's Rosemary's Baby is an exceptional work of cinema and deserves to be called one of the greatest films in the horror, thriller and suspense genres.
The movie tells the story of a couple, Rosemary and Guy, that have just moved into an apartment that isn't exactly the most elegant in New York. Next door to them are an interesting older couple by the names of Roman and Minnie Castevet. After awhile, Guy begins to spend an increasing amount of time with them, eventually becoming almost distant to Rosemary. While that's going on, one morning Rosemary discovers she's pregnant after a frightening dream and starts to witness a lot of strange occurrences in her apartment building. This causes her to eventually begin to fear for the life of her unborn child.
This movie is one of the greatest psychological films of all time with actress Mia Farrow being one of the best things about the movie. Her acting is extremely convincing, leading us to actually believe she is being tormented. Farrow just has this fragile appearance to her that helps and we as an audience grow attached to her and fear for her. It's hard to imaging who else could give a better and more convincing performance.
There are a lot of moments in this film that will make audiences cringe. Particularly in a very extreme and very intense moment when she is asleep and has a nightmare. In the dream, she's naked and tied down to a bed while being surrounded by a group of people when all of a sudden, a demon-like creature approaches the bed and begins to rape her. It's a pretty uncomfortable and freaky thing to witness.
Overall, the adjectives one would use to describe this film would be freaky, disturbing, and unnerving. It's packed full of uneasy psychological elements that give viewers a creeped out feeling throughout the movie. It was a very revolutionary horror picture when it came out and to this day it's still one of the most disturbing movies ever made. To those who may have not seen this film, you should definitely make it your next film to watch.
28 Days Later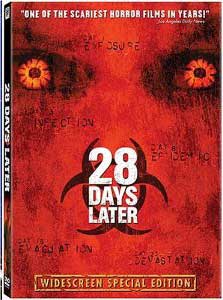 Zombie films are awesome. They're one of the most popular sub genres of horror and whose audience continues to grow. Since the original zombie masterpiece Night of the Living Dead, there have been a steady stream of zombie films. But few zombie films manage to be as frightening as 28 Days Later, whichis one of the most brutal and horrifying horror films ever to be released.
The film starts in a laboratory in the United Kingdom. A scientist is keeping chimpanzees for testing purposes when a group of three animal activists break in, overpower the scientist and attempt to release the chimps. The scientist warns them that the monkeys are infected with a virus and cannot be released. The trio is successful, and unleash a brutal virus into civilization. Twenty eight days later, a young man named Jim awakes alone in a hospital room and discovers he is one of the last few people who have not been infected. The movie follows his struggle to survive.
In comparison to other zombie films, the zombies in 28 Days Later look a lot more menacing. Firstly, when they become infected they started vomiting red blood. It's then followed by their eyes turning bloodshot red. The way they move is really creepy too. They move just like they're robots, but constantly have muscle spasms and jolt around. It makes their actions very unpredictable. And these are not slow-moving zombies like other zombie films we've seen. They are vicious, and will do whatever they can to infect the non-infected. These are probably some of the scariest zombies ever in a zombie movie.
There are some jump scenes in this movie that'll really surprise you if you don't watch out. Sometimes the movie will fool you with a softer, tender moment when all of a sudden a zombie jumps out of nowhere and attacks. When they do attack, the camera work is excellent. It gets in real close for a clear view and we can see all of the damage they inflict. It's a very violent film. In one scene, someone is hacked to death with a machete while in other scenes people are shot with different weapons.
The atmosphere in this movie is really disturbing and is one of the best things about 28 Days Later. It has a post-apocalyptic setting with the streets of London being calm and deserted. It's full of scattered cars, garbage, and decomposing bodies. Sometimes even birds will be pecking at them. It has a really creepy artistic feel to it. The soundtrack to the movie help adds a dark tone to the atmosphere as well.
28 Days Later is an excellent horror film. It's very creepy and yet fascinating to watch everything going on with Jim and how he holds out in this post apocalyptic setting. It's one of the darkest post apocalyptic settings ever and makes this one terrifying movie.
Before playing pause RadioHalloween.com on far right sidebar under search box.
Carrie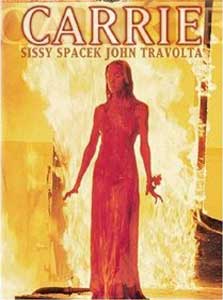 Carrie is a horror film that is full of suspense, thrills and supernatural elements that make it one of the great horror classics. It features some of the best character development out of any other film in the genre. It's main character, Carrie, is one of the most mysterious characters that simply cannot be explained in one sentence. The film also has a style of it's own, predominantly toward the end that is so unique it really goes unmatched to any other existing movie.
The film revolves around Carrie White, a shy, timed seventeen year old girl who faces constant bullying and harassment from her peers at school. After one incident in the locker room shower, she discoveries that she has telekinetic powers that go off every time she faces torment or emotional distress. Her mother, who is a very strict and religious woman, only makes the situation much worse. It's only a matter of time before Carrie is pushed over the line and uses her powers to cause harm.
The creepiest thing about Carrie is the main character herself. Actress Sissy Spacek gives  an outstanding performance as the shy Carrie White. She's a very mysterious character because she's so quiet and this film focuses a lot on studying her interactions. Once her telekinetic powers are discovered, we know that Carrie is a ticking time bomb that could explode at any given time after the constant bullying continues to take its toll over the course of the movie. Her mother Margaret, whose a nutty religious zealot, gives a very disturbing performance which makes the movie even creepier and is a major contributor to Carrie's inner demons. The end is a highly disturbing thing to witness and is the best part.
There's also some very good music in the film. It really helps aid in creating the creepy atmosphere that this movie has. It's another element the remakes just haven't been able to completely match. The film has the most amount of atmosphere toward the end. It uses a lot of bazaar filming techniques you don't find in modern movies and which help make the movie stand out. This includes a lot of red colors, rotating camera angels, and more to create a horrific setting that is very unnerving.
This is a heavy physiological film, similar to The Shining in which we have a main character, whom after facing a long period of emotional troubles, eventually can't hold in their feelings and lash out. Not surprisingly both stories were written by Stephen King, one of the greatest horror authors of all time. There have been several remakes in the last couple years, but none of them can match the same level of horror and freakiness as the original. Carrie is an awesome horror movie that's worth checking out.
Before playing pause RadioHalloween.com on far right sidebar under search box.
A Nightmare on Elm Street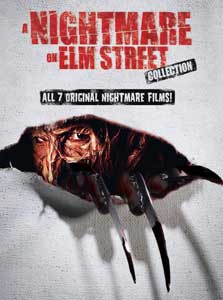 If you ask the question "what is the best slasher film of all time?" I guarantee you someone would immediately bring up the 1984 classic A Nightmare on Elm Street. Since the original film, it's spawned an impressive seven sequels and a reboot several years ago (which was somewhat of a letdown). None of them however were able to match the same level of fear and horror the original movie installed in us. A Nightmare on Elm Street is one of the best slasher horror movies for its notorious villain, Freddy Krueger who kills his victims violently and is a very freaky person.
A Nightmare on Elm Street takes place on Elm Street, of course, and follows a group of friends. They soon realize that they are all having the same dream which involves a disfigured looking man by the name Freddy Krueger who tries to hunt them down. Then, one of their friends mysteriously dies in her sleep. One of the friends, Nancy, believes the villain Freddy Krueger is responsible for her death and sets out to try and stop him from striking anyone else.
There's a lot of scenes that feature violent, unpleasant things that happen to the characters. One character is shown hung around the neck, while another is slashed several times with lots of blood gushing all over the place. This isn't one of the most violent films out there, but what makes the scenes much more frightening is the man who actively hunts them down.
Freddy Krueger is one of the most recognizable movie villains of all time for his very disturbing appearance. His face is mutilated, having appeared to of been burned in a fire. He wears gloves with long blades coming out of each finger. Yet he also wears a normal looking red and black striped shirts and sports a black fedora. He is one ugly and creepy dude that you definitely don't wanna run into.
Directing this film is none other than Wes Craven, whose directed some other good and scary films, including Scream and the original Hills Have Eyes movie. He's a very good director and does a lot of good work in the horror genre.
A Nightmare on Elm Street is one of the greatest slasher films of all time. Despite it aging a little, it's still a very good film that's terrifying. Don't think because it's old it's not going to be scary. It's a shame that the sequels that followed just weren't able to recapture the same level of horror as the original Nightmare on Elm Street, with maybe the third film being the best sequel. All horror junkies have probably seen this film, but just in case you haven't, make sure you check this out. It's really good and scary experience.
http://youtu.be/jdb_HSvf2Zk
Before playing pause RadioHalloween.com on far right sidebar under search box.
The Thing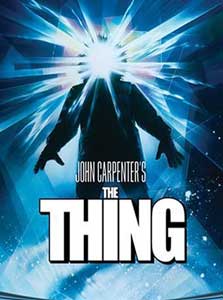 If there is a man who knows how to make great horror movies, it's John Carpenter. He created some of the greatest horror movies during the late 1970s and all throughout the 80s, which include Halloween, They Live among others. One of his more gruesome and disturbing movies of his career was The Thing from 1982, which is chock full of violence and disturbing imagery that'll keep you creeped out. To this day, The Thing is one of the most disturbing and gruesome films ever in the history of motion pictures.
The movie follows a group of American scientists who have established a base in Antarctica to conduct research. They're interrupted by a group of Norwegians who are attempting to kill an evading dog that's running toward the base. They're unsuccessful at killing the dog which eventually reaches the Americans. They decide to take him in and put him with their other dogs. They soon realize that it was a mistake, as the stray dog begins to attack the others. It's then discovered that an alien like creature has attached itself to the dog and is now running loose on the base.
The location for this film is excellent. They're in the middle of the Antarctic, where help would be unable to reach them in a hurry. Not to mention they would be unable to escape in a rush. It's a beautiful place, but covered in mystery as we are unfamiliar with the conditions. This disturbing mix of beauty and isolation make it the perfect setting for a creepy horror movie.
What makes this movie so awesome and so disturbing is its amount of realistic gore. It was made before computers dominated the special effects department, which forced John Carpenter to use a lot of creativity. There really aren't too many movies in existence that can match its level of scary high-quality violence. In one scene in particular, the alien virus infects one of the researchers. His head starts the bloat out from the inside with blood gushing out and eventually his head separates in half. It's similar to in the Indiana Jones movie where the man gets his face melted off. In another scene an alien pops out of the guy stomach much like in the movie Alien.
The whole film is very suspenseful. We never know which of the scientists are going to become the victims to the alien virus next. It's transmitting between them and there is no visual way to see it spread. Combined with it's isolated location, this is a more physiological film than others in the genre.
For it's non-CGI visuals and imagination, this film still holds up strong today as a very scary horror film. It's a very unique film that is superior to nearly all horror films because of this. It deserves to be called one of the scariest films of all time.
Insidious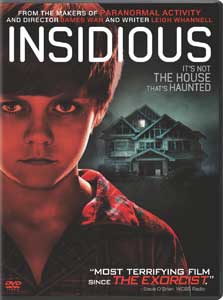 Director James Wan has been making some excellent horror movies in the past decade. He has been very successful at making films that are scary with small budgets. Which is something even many expensive horror films can't accomplish. Insidious is one of those horror films that stands out from most for it's success at attempting to scare.
The movie revolves around the Lambert family who have just moved into their new home. At the beginning everything appears routinely normal for the family. But one day, one of their kids, Dalton, hears strange noises coming from the attic. In his attempt to investigate, he falls off a broken ladder and then goes into a coma the next day. For three months doctors don't understand why Dalton's in a coma, but decide to let him return home. Supernatural events begin to occur shortly after with people suspecting something is going on with Dalton.
This film features lots of jump scenes, many of which you won't be expecting. Some freaky scenes include evil beings staring through windows, evil creatures being drawn by a child with horns and no eyes among lots of other things. Dalton becomes the target of these evil beings and is very disturbing to watch, especially since he is only a child. It's very intense all the way through and is not for the faint of heart.
There is a heavy amount of atmosphere featured in this film. The spooky music goes well with it and makes it a lot more disturbing. Insidious tells of another dimension where all the evil comes from. When we get a glimpse of what this dimension looks like (known as the further) there's nothing but dark images and scary visuals that give us chills.
Insidious also has some very convincing actors who give great performances that look genuine and realistic. When Dalton is possessed, it's totally convincing and freaky. You can feel the distress of his parents and siblings when they become victims of the paranormal activity.
This movie is not big on gore in comparison to a lot of  other horror films. They don't try to make some viewers sick with grotesque or macabre images to scare you. But we're instead treated to a lot of surprise moments that'll shock you and make you jump if you're not constantly watching out for what's about to come.
This film is a textbook example of how to make a film scary. It uses elements from other popular horror films, but it still manages to stand out from the others as a unique movies that very freaky. Don't let the PG-13 rating fool you, it's still freaky for both younger and older audiences. All horror fans should check out Insidious and it's sequel, Insidious: Chapter 2.
Before playing pause RadioHalloween.com on far right sidebar under search box.
Scream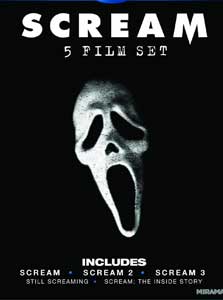 Who doesn't love a good slasher film, right? In 1996 legendary slasher film director Wes Craven made the movie Scream. While the plot of the movie sounds really cliché, it does stand out from most other slasher films for several reasons. It's a highly disturbing, gruesome and frightening movie.
The film takes place in a small town in California where nothing out of the ordinary usually happens. But that all changes once it's discovered that a knife-wielding killer is on the loose. A teenage girls mother is the first victim, followed by two students who are found murdered one year later. It seems the only clue to the killers identity is a ghost mask he's reported to wear. Then even more people fall victim to his rampage. It becomes a race against time to figure out the identity of the killer and to stop him before he can kill anyone else.
Going into this film, you might expect a slasher film you've seen many times before. By this time the premise of a serial killer murdering people in a small town sounds very cliché. But there are several things that help set this movie apart from a long list of other mediocre slasher titles. One element is the references a lot of classic slasher films while also adding some funny, yet disturbing scenes.
The director of the film was none other than Wes Craven, a man whose had a lot of experience directing other horror classics including A Nightmare on Elm Street and the original The Hills Have Eyes. He did a fantastic job in creating nail-biting moments, as he is quite experienced in the field. And as usual, he shows just the right amount of gore which is something we love to see in slasher films. It's pretty convincing and helps make the killings a lot scarier.
One of the more intense scenes is when a woman is brutally stabbed in the throat and several times in the stomach and is then hanged. In another scene a man is disemboweled. If you watch the uncut version of the movie, the disemboweling is a lot more graphic and disturbing to watch. This is also a movie that features a lot of jumps which helps keep you on your toes.
But there's even a touch of humor in some instances. Humor mixed with the brutal violence and gore of an innocent girl doesn't usually make your gut feel good. In one particular scene, the slasher decides to play a game with a girl whose simply waiting for her boyfriend to come to her home. The slasher calls her on the phone and convinces her to play a trivia game. However she gets the answer wrong, and because of that, brutally murders her. It's a very disturbing scene to watch.
Scream is one of the scariest films to come out during the 1990's and still holds up as also being one of the most disturbing. If your a fan of the sub genre of horror, this one is worth watching.
Before playing pause RadioHalloween.com on far right sidebar under search box.
The Cabin In The Woods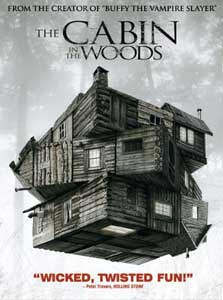 A horror movie that features good plot twists with a story that contains original elements is hard to come by these days. In this day and age it seems most horror films are either trying to cash in on a trending theme or tell a similar story we've heard again and again. But this film, The Cabin in the Woods, fools you in the beginning to believing it's a normal horror film but stands out from a large majority of them. With its spooky atmosphere, violent kills and dark tones, it successfully creates a freaky movie that has lots of suspenseful moments.
The tagline for the film is "you think you know the story." Which you think you will because the plot sounds very similar. The movie is about a group of college-aged kids who go off to an isolated cabin in the woods with no means of contacting the outside world. After they arrive one of the kids, the stoner teenager, thinks something out of the ordinary is going on. But nobody else believes him. It's not long until all hell breaks lose and they become desperate to survive and escape.
This film literally features every kind of creepy monster imaginable. We've got zombies, ghosts, creepy children, a werewolf, a clown, a killer unicorn among many others. Whatever gives you the creeps, this film has it. Some of them are computer animated while others are "actually there." The makeup used on these monsters are excellently done and look very realistic along with the good amount of gore.
The Cabin in the Woods features lots of plot twists, which make it stand out from other horror movies. But don't be deceived by the first fifteen minutes of the movie. There are some comedic parts in the beginning leading you to believe this is a constant theme. But this is not the case. It's a pretty brutal movie. Most of the deaths are never seen coming, keeping the audience always on the edge of our seats keeping us nervous. People are shown being stabbed, shot, sliced and eaten among other things with a lot of them being zoomed in close for a better, more disturbing view.
The cabin looks exactly like the one from Sam Raimi's The Evil Dead. It's a very creepy setting for the film along with the dark woods surrounding it at night. It has a lot of atmosphere and creepy music that go very well together and will give you the chills.
The ending for this movie is the absolute best part, as this is when most of the deaths happen and the largest twists in the plot take place. It's a total bloodbath of death that features true realistic violence that's not for the squeamish.
The Cabin in the Woods is one of the best horror-themed violent films to come out in recent years. It's surprising death scenes, monsters and realistic violence make it a scary film that's highly entertaining.
Before playing pause RadioHalloween.com on far right sidebar under search box.
Suspiria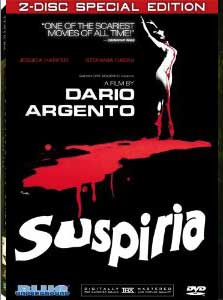 If you were to compile a list of some of the scariest films ever, it would be hard not to include Suspiria on it. This is a film that was very original for its time and continues to frighten audiences. Dario Argento was the man who directed the film, which is hands down the best film of his career. You can tell the man put a lot of detail into creating this film and who was ultimately the right man to direct this movie. Suspiria is an excellent horror film that's very gruesome, disturbing and one of the scariest films of all time.
Suspiria is about Suzy Bannion, a young woman who travels to Germany to help pursue her dream as a ballet dancer. She joins a prestigious dance academy in order to perfect her dancing skills. However after she gains admission into the school, a lot of strange things start to happen. Suzy comes down with an illness, which requires special treatment. As times goes on, it becomes apparent that a lot more is going on at the ballet school than meets the eye.
The opening scene for this film is one of the most gruesome and disturbing in all of cinematic history where we witness the brutal murder of a young woman. She is screaming out of terror as she's pushed up against a window, which eventually shatters. She is then stabbed in the chest by someone who appears off camera. We get a very clear shot of the knife going into her chest. After she's stabbed several more times, we get a zoomed in shot of her chest which appears to show a stab wound in her heart with blood gushing out of it. Finally, while she's still alive, she's hanged.
This film is full of scary and unpleasant scenes that are often times difficult to watch. Even after the beginning, there's still some very brutal scenes in Suspiria. We see huge shards of glass land on a woman, with one piece even landing on her face, nearly cutting her head in half. We're also treated to a scene in which a man is mauled to death by a dog, a woman who gets her throat slit and even a scene involving a dead body whose eyeballs have been poked with pins. A lot of these scenes come with loud music which help make them much more uncomfortable to watch.
Suspiria is without a doubt one of the scariest movies ever. It's such a freaky film to watch from beginning to end and is definitely not a film for the faint of heart. Words have a hard time justifying just the sheer amount of horror this movie will put in you. This film is almost forty years old, and yet it still continues to be shocking. This is a movie that all true horror fans should check out.
Misery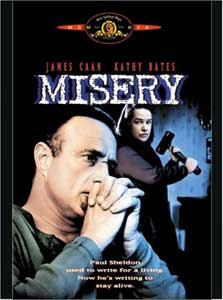 There are very few films that can match Misery's same level of horror and freakiness. This is a movie that's full of character and scary situations that slowly get worse as time goes on.   There's a lot of torture in this film, which isn't for the faint of heart, and is one of the films most disturbing and hard to watch feature. Misery is truly one of the most suspenseful and creepy horror movies ever created.
Misery revolves around a famous author named Paul Sheldon (James Caan) who specializes in romance novels. While on a road trip, he accidentally drives his car off the road during a blizzard and is knocked unconscious. He is discovered at the crash scene by a woman named Annie Wilkes (played by Kathy Bates) who rescues him and takes him back to her remote home to care for him. We find out that Annie is a huge fan of Paul Sheldon's novels and even considers herself to be her number one fan. While staying there, we discover that Annie is actually a psychopath and eventually goes more insane as time goes on.
This is a movie that is all about characters, something that Stephen King is usually great at writing about. Kathy Bates' performance as the crazy Annie Wilkes is exceptionally disturbing. She is one of the craziest women ever in cinema. She is a very unpredictable woman who will do insane things. She uses several different objects to inflict pain, one of which is a sledgehammer. We're constantly scared for Paul's welfare, who is frequently tortured and abused throughout the whole film. He is played by James Caan, who just like Bates gives a great performance as the author held against his will and is very believable.
What's really ironic and helps give the movie a darker feel to it is the location of the cabin in which Annie Wilks lives. It's a really isolated area full of pine trees surround by mountains. It's an overall beautiful location. But it's so ironic considering all of the ugly, violent and scary things going on inside the cabin. It leaves you with a weird feeling that beauty is right outside of all the horror.
This is one of the best films based off a Stephen King novel. Along with The Shining, they are both excellent works of horror that are highly disturbing and guarantee to creep you out. It captures the same level of fear as written in the novel and makes the transfer over to the movie screen excellently. It's a very freaky movie that'll make you fear the outcome of the character more than most films. It's definitely a movie that will force you to keep watching in fear for the main character.
Before playing pause RadioHalloween.com on far right sidebar under search box.
The Shinning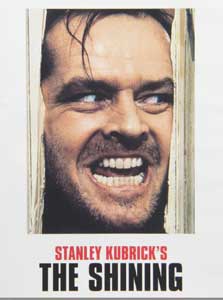 Moves based on the works of Stephen King are usually mediocre or average at best. While he is an outstanding author, very few films have been capture the same amount of terror as portrayed in his novels. Which is unfortunate considering he is one of the best horror authors of all time. But this film directed by Stanley Kubrick stands out from most horror movies, let alone films that are King-inspired. His dark artistic vision created one of the scariest movies in history.
The Shining is the pinnacle physiological horror movie. The film stars Jack Nicholson, a man who gives a fantastic performance as a father, husband and book author who eventually loses his mind due from being extremely isolated from the outside world. He and his family travel up to a fancy hotel in the middle of nowhere to watch over it for the winter. Nicholson's acting is the scariest element in this movie. He has a history of giving performances as mentally disturbed people (One Flew Over the Cuckoo's Nest) and gives his scariest performance of his career. It's disturbing to watch Jack slowly lose more of his sanity and eventually acting out on creepy visions.
The hotel itself is a very freaky setting for this movie. It's a very old hotel, which gives it an old creepy feeling to it. Not to mention it's supposedly haunted by ghosts, most notably two young twin girls and a haunted room simply called room 237. And the hotel is huge, there's a lot of room for mysterious things to occur. After some time a snowstorm comes and confines them indoors, increasing the isolation.
There's some violence and graphic images throughout this film. The majority of it takes place in the characters imaginations while hallucinating. The main item used to inflict the violence is an axe and we sometimes see people who have been hacked to death.
The final scene in this movie is excellent. Without giving away any spoilers, everything comes full circle and it's one of the most suspenseful moments ever in a horror movie. You can just feel the chaos, the panic and the imminent danger that's involved with the characters in the last scene. It will keep you on the edge of your seat to see how things will turn out. It's a very creepy and disturbing ending.
In the end this movie is an excellently crafted work of art that is one of the scariest films of all time. It'll grab hold of your attention with it's dark and creepy artistic vision and get under your skin. It's plot is vastly different from other horror movies, in that it strictly involves being isolated with your family. Even for those not attune to horror movies, this is one that will freak out all audiences.
Cape Fear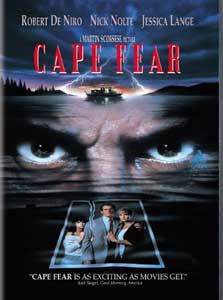 If someone were to give you a general description of Cape Fear, you may be lead to believe it sounds like just another stalker movie, but if offers so much more than most other thrillers out there, particularly when it came to the casting decisions of the main characters. Cape Fear is a remake of a 1962 film, but this one in particular is a lot more intense. This is an excellent thriller that's scary and very suspenseful.
The film tells the story of a lawyer by the name of Sam Bowden (Nick Nolte) who is defending a client, Max Cady (Robert De Niro) who has been accused of rape. Bowden is unable to convince the jury of finding Cady innocent, who ultimately give a guilty verdict, sending him to prison. After serving fourteen years, he is released from jail. Now back on the streets, he sets out to find his defense lawyer, whom he blames for getting sent to prison due to a poor defense. Bowden must protect his family from his former client before any harm can become of them, especially his fifteen year old daughter whom Cady has zoned in on.
Perhaps the best, and scariest part of this film are the performances. First we have Nick Nolte as the womanizing lawyer Sam Bowden from a small town in North Carolina. He gives a pretty good performance that's certainly believable. The other cast members are decent also, but of course the man who makes the movie is veteran actor Robert De Niro as the insane Max Cady. He gives a very good portrayal as the psychopathic killer who's full of anger and seeks revenge on Bowden, believing he's the reason he was sent to jail. His appearances in the movie make it a lot more freaky and was ultimately a great person to cast.
Cape Fear is full of unpleasant themes that make the film scarier. While this is not a particularly violent film, what's shown and discussed is pretty unpleasant. Max Cady is a genuinely awful person to watch. He is the definition of a psychopath. Cady loves to make biblical references which make his character even more interesting. One of the big themes of the film is rape, which is discussed throughout. While the film doesn't show rape, it sometimes occurs out of view which some may find disturbing. Plus the fact Cady seems to be targeting on his defense lawyers young daughter is very creepy.
For a remake, this film is very good and is ultimately more intense than the original version from 1962. It's very interesting and intense film that continues to thrill audiences today. Robert De Niro is a fantastic actor who is the best person in the movie. It's overall a very good and freaky experience. If you're a fan of thrillers, this is one I would strongly suggest not passing up on.
Before playing pause RadioHalloween.com on far right sidebar under search box.
Fatal Attraction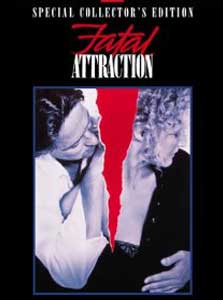 Well, after watching this movie, you will probably think twice about cheating on your spouse. The plot is about an obsessed mistress who stalks her lover even after being warned several times that the affair is over. The movie has some scenes where we are shown just how much of a psychopath she is when she sneaks into her lover's house, kills a pet rabbit, and puts it on the stove to boil. The scariest scene of this movie is where they have a scuffle and he thinks that he has killed her by drowning her in the bathtub. She re-emerges swinging her knife at him.
Fatal Attraction Trailer
Damnetha is a staff writer, movie and book reviewer.