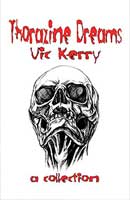 The author, Vic Kerry, has compiled a list of horror short stories entitled, Thorazine Dreams. And frankly speaking, I don't know how to introduce this collection, because they caught me totally off-guard. I quickly found myself enthralled inside Kerry's fictional world, and after each story, I couldn't wait to start the next one. With a very good eye for detail, which I'll get into a little later, and a great writing style, Kerry digs into the strangest places in order to bring out something completely original. To top it off, the collection was edited by Matthew Weber, a personal favorite author of mine.
I couldn't find a specific theme on which the collection was based. In fact, if I had to find a relation between the stories, it would be what I call a "Lovecraft" connection. Each story is so completely diverse and different from the next, but at the same time, you can link them to a single author with a definitive execution. For example, the collection includes werewolves, zombies, aliens and even mutating insects.
Unfortunately, I can't give a slight overview of all the stories, but the introductory story should be a good indicator. It starts with a new medical resident who encounters a man believing he's a werewolf. After doing several tests and unknowingly running out of time, the new doctor doesn't heed the warnings of the psycho, which leads to a whole new strange beginning. From there you'll get to meet a strange couple who lives in a zombie infested suburbia and after that, an arrogant cat that has the power to steal your breath.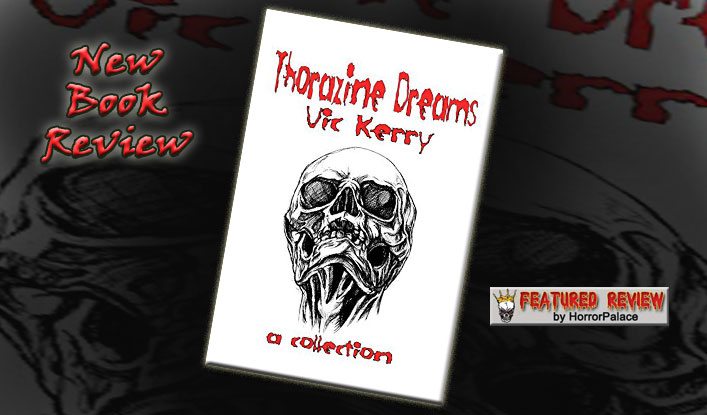 The first word that comes to mind when I think about Thorazine Dreams is "originality". In a popular genre such as horror, it's incredibly difficult to maintain an original quality, especially with short story collections. And with Kerry, the collection remained consistent. The stories didn't get predictable or less interesting as it continued. Instead, it just got better and more exciting.
To get back to the "eye for detail" I mentioned earlier, Kerry implements the language of his characters perfectly. They have colorful and plot-building personalities, which also makes them so much more interesting. And then there's the clinical language in between, or more specifically, the technical details. All readers will appreciate the research and effort Kerry went through to bring the cast members to life.
However, readers shouldn't be expecting full-on gore. While there are many sections that are unnerving and downright disgusting, Kerry's focus is not on exploiting blood. I felt the focus was more about creating a balance between telling an entertaining story and adding some great thrills. There's no overkill, but just enough violence and torture to leave you feeling mentally freaked.
I would really recommend Thorazine Dreams for all lovers of horror.  Kerry is more than able to keep the reader's attention, and his writing skills are brilliant while always ending with some kind of bending twist.

Reviewed by Damnetha Jules
Damnetha  is a staff writer, horror book and movie critic.
Also by Vic Kerry and Mathew Weber: Double Barrel