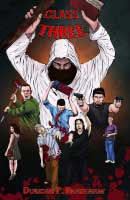 Duncan P. Bradshaw is the author of the new book entitled "Class Three" and he delivers somewhat of a different spin on a zombie apocalypse. With rather colorful characters the reader is thrown into a world where a typical day turns into something nobody expected, except for one particularly eager character called Phillip.
Bradshaw starts the story with a chapter/intro that introduces villains that are in fact human. Unlike many writers who prefer to use an intro as a way to capture the attention of the reader and leave it as it is, Bradshaw's intro is linked to two important sections which the reader will discover later in the book. The second chapter introduces Jim, Sophie and Phillip. Fourteen hours before the "apocalypse" takes place, Sophie leaves Jim at a restaurant after deciding that their long term relationship is a dead end. Depressed and hurt Jim goes to the pub next door and drinks until he is unable to stand up properly. In turn he calls his older brother Phillip to come and pick him up.
When Jim wakes up the next morning he is greeted with a series of strange and horrific events. Luckily Phillip was prepared for a zombie apocalypse and after picking up Jim they decide to make their way to their parents. For most of the people the zombie attack is scary and gruesome, but not for Phillip. He seems to find a sense of excitement, because he did expect it at some point or another. On their journey they meet other survivors, but also discover something that leaves them emotionally broken. Ultimately they decide to follow the trail of Sophie and her mother.
Bradshaw brings another dimension to the book by including the story of two particular zombies and their trail of destruction. However, one of these zombies can make things very complicated as the story unfolds. The other threat apart from the zombies is a religious cult that regards the apocalypse as the rapture. Part of their mission is to kill people so that they can come back as the hideous creatures and join their goddess in all her glory. In essence, everyone is infected and only by death can the zombies rise.
Instead of writing a book that is completely bound in horror, thrills and graphic death, Bradshaw implements a level of humor. This is mostly visible in Phillip, and Bradshaw manages to find a nice balance between gore and comic relief. Whereas Jim is the cautious character that prefers to think before he acts, Phillip is the one that prefers to take charge before thinking. The combination of the two gives the story a great entertainment value in addition to holding the interest of the reader.
Make no mistake; there is a fair share of chilling and disturbing moments. Bradshaw was definitely careful about the amount of humor he used and where he placed it. Nothing is taken away from the emotionally challenging sections and neither does Bradshaw leave a lot for the imagination. Together the separate stories of the characters reach a very interesting climax that doesn't disappoint.
"Class Three" is definitely the type of book that can be converted to film and it won't need many changes. Bradshaw's connection with his characters is in my personal opinion the best part of the book. It's not easy coming up with an original zombie theme and Bradshaw incorporated an element which sets it aside from all the rest.
[amzn_product_inline asin='1502402505′]


Reviewed by Damnetha Jules
Damnetha  is a staff writer, horror book and movie critic.
More Horror Book Reviews