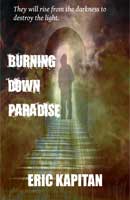 Burning Down Paradise is a poetic story by Eric Kapitan, and it's a tale the reaches the depths of hell. My first thoughts as I write this review is that sensitive readers should steer clear of this title because it's really as gruesome as the title suggests. With a good handle between telling a story through the eye of a poet, Kapitan delivers a very disturbing reality.
The story starts with God and his adventure through the darkness, before he sets out to create angels and mankind. It follows Kapitan's version of what the creation process entailed, followed by the unrest Lucifer sows among his fellow angels. From there a baby girl is introduced into the world, given to a family that hates, rapes and abuses her. She grows up only to give birth to a baby boy, who was created through incest.
Unable to live with herself, she commits suicide soon after Timothy is born. From there Timothy rides the vicious cycle so many abandoned kids have to go through, only to fall in love with death as he grows older. But then he gets to meet his maker so-to-speak, and get the revenge he's been aching for.
This is the second book I'm reviewing from Eric Kapitan, and I can honestly say it holds as many disturbing details as the first. Given that the first book was a collection of poems and this is a short story in poetic form, the darkness Kapitan captures is very much the same. There is no distinguishing between the horror he aimed for the first time round and the horror and achieved with the follow-up piece.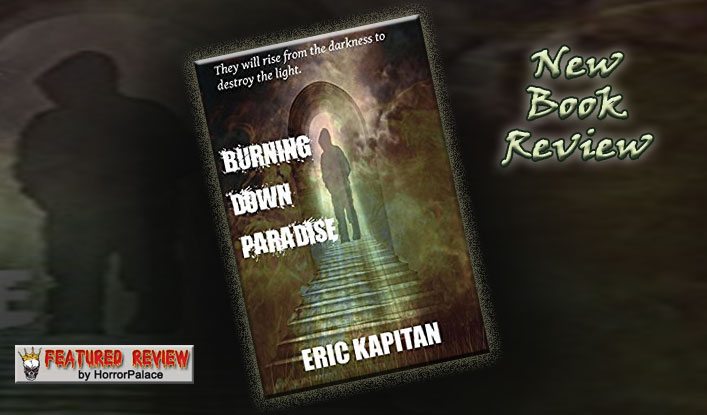 From the start, I was intrigued with the plot of the story, especially because it's a personalized vision of how everything came into existence. And as it is kept unfolding I kept on cringing at the disturbing turns it took. Just when you think it can't get any worse, it does.
Out of all the recent books I've reviewed, this one has to be the shortest and darkest of them all. With a very straightforward style, Kapitan effectively mixes storytelling with a poetic execution, staying true to both approaches. And it's this element I liked the most. Even though it's an age-old premise, it takes a deeper look at the questions surrounding fairness and judgment. It tackles a serious issue many religious people struggle with, such as the consequences of suicide. What really happens?
When it comes down to it, I found Burning Down Paradise to be very original and it lives up to the reputation Kapitan is establishing. I honestly don't think the plot could've sounded better if it was a full-length novel because the poetic part makes up for it. It's the perfect length, the perfect choice of words, and a very unpredictable ending. Kapitan sells his characters using very little, a quality I personally respect very much.
Readers who are looking for a different type of hardcore ride, I'd definitely suggest Burning Down Paradise. Kapitan doesn't pull any punches, so be warned. For a poetic story, it's still very explicit and unnerving. Dark hats off to the writer.
Reviewed by Damnetha Jules
Damnetha  is a staff writer, horror book and movie critic.
Also by Eric Kapitan: As The Blade Cuts