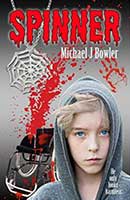 Spinner is the title for the young adult novel written by Michael J. Bowler. His experience as a teacher, writer and mentor definitely shines through as he tells the tale of a special boy inside a very unpleasant situation. The opening pages are wonderfully graphic and they set the right tone for the story that follows. Keeping in mind that Bowler's target audience is young, it doesn't take anything away from the "entertainment" factor. Even more sophisticated readers will find some inspiration at the end.
Alex is only 15 and he's already well accustomed to the social service system. He has been in and out of foster homes more times than he cares to remember and now he is stuck with a guardian that is dead set on exploiting his "spinning" ability. Even though he is bound to a wheelchair he has something else that legs will never be able to provide, which is why his life is constantly in danger. His best friend Roy is pretty much the only person he can trust completely, although he does manage to find a little romance through all the nightmares.
Unfortunately Alex's situation takes a turn for the worst as one of his teachers end up dead. As the beautiful substitute makes an appearance along with two detectives who ask a lot of questions, Alex becomes the center of attention. However, the attention he gets doesn't come from loving foster parents. Instead, the conspiracy surrounding his ability forces him to make a choice that nobody should be making.
There is no questioning Bowler's ability to write. He has a great sincerity in his tone and young audiences especially will appreciate this quality. The plot line doesn't just hit where it hurts, but also draws the reader deeper. By stacking the odds squarely against the main character, Bowler builds up towards a very rewarding end.
In terms of horror, it's definitely a good read for teenagers. The author doesn't hold back when it comes to the bloody details just because his audience is slightly younger, but he still keeps it controlled. Thanks to Bowler's obvious focus on overcoming increasingly difficult obstacles, not much attention is paid to the horrific side. It's the type of horror story that comes with a happy ending.
Overall it's the perfect book for teenage horror fans to read. Unlike adult novels where the end is much better if it's drenched in the guts of the main character, this story is aimed to inspire. For this purpose alone Spinner is worth reading. An adult audience will probably find a lack in that sense of darkness typically associated with other books in this genre, but then again, it's not meant to be scary as much as it is meant to inspire.
The characters are daring and quickly come to life inside the reader's mind, so there is nothing negative to say about their development. Bowler took a risk when choosing the characteristics for his main character, but his risk has paid off. The end product is no doubt going to enlarge the platform of readers he already has.
Reviewed by Damnetha Jules
Damnetha  is a staff writer, horror book and movie critic.
About The Author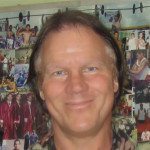 Michael J. Bowler is an award-winning author of eight novels––A Boy and His Dragon, A Matter of Time (Silver Medalist from Reader's Favorite), and The Knight Cycle, comprised of five books: Children of the Knight (Gold Award Winner in the Wishing Shelf Book Awards), Running Through A Dark Place, There Is No Fear, And The Children Shall Lead, Once Upon A Time In America, and Spinner.
His horror screenplay, "Healer," was a Semi-Finalist, and his urban fantasy script, "Like A Hero," was a Finalist in the Shriekfest Film Festival and Screenplay Competition.
He grew up in San Rafael, California, and majored in English and Theatre at Santa Clara University. He went on to earn a master's in film production from Loyola Marymount University, a teaching credential in English from LMU, and another master's in Special Education from Cal State University Dominguez Hills.
He partnered with two friends as producer, writer, and/or director on several ultra-low-budget horror films, including "Fatal Images," "Club Dead," and "Things II," the reviews of which are much more fun than the actual movies.
He taught high school in Hawthorne, California for twenty-five years, both in general education and to students with learning disabilities, in subjects ranging from English and Strength Training to Algebra, Biology, and Yearbook.
He has also been a volunteer Big Brother to eight different boys with the Catholic Big Brothers Big Sisters program and a thirty-year volunteer within the juvenile justice system in Los Angeles.
He has been honored as Probation Volunteer of the Year, YMCA Volunteer of the Year, California Big Brother of the Year, and 2000 National Big Brother of the Year. The "National" honor allowed him and three of his Little Brothers to visit the White House and meet the president in the Oval Office.
His goal as a YA author is for teens to experience empowerment and hope; to see themselves in his diverse characters; to read about kids who face real-life challenges; and to see how kids like them can remain decent people in an indecent world.
He is currently working on the sequel to Spinner.
More on Michael J. Bowler:
MichaelJBowler.com
FB: michaeljbowlerauthor
Twitter: BradleyWallaceM
Blog: sirlancesays.wordpress.com
tumblr:http://michaeljbowler.tumblr.com/
Pinterest:http://www.pinterest.com/michaelbowler/the-knight-cycle/
Freado:http://www.freado.com/book/16160/children-of-the-knight
Goodreads:https://www.goodreads.com/author/show/6938109.Michael_J_Bowler
Amazon:http://www.amazon.com/Michael-J.-Bowler/e/B0075ML4M4/ref=sr_ntt_srch_lnk_1?qid=1417379614&sr=1-1
Also by Michael J. Bowler:

More Horror Book Reviews