Constantly haunted by recurring anxiety dreams about being followed, a young, terrified David Mitchell would later use this to write one of the most familiar yet unnerving horror films of all time. The now famous writer and film director initially struggled with the concept so much and would often blatantly refuse to discuss the plot quoting, "When you really say it out loud, it sounds like the worst thing ever." Fortunately for him and horror fans worldwide, the film was an enormous hit, netting a cool $20.3 million in the Box Office as of January 2016.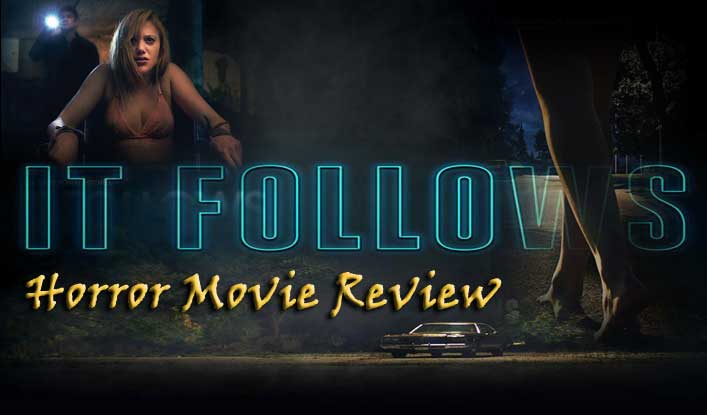 It Follows: The Plot
Making its debut at the 2014 Cannes Film Festival in Detroit, Michigan, It Follows is a supernatural horror film written, directed and co-produced by David Robert Mitchell. The movie stars Maika Monroe as Jay, Daniel Zovato (Greg), Keir Gilchrist (Paul), Olivia Luccardi (Yara), Jake Weary (Hugh/Jeff), Lili Sepe (Kelly) and Bailey Spry as Annie. In addition, actors Mike Lanier, Ingrid Mortimer, Alexyss Spradlin, Erin Stone and Don Hails all play the various incarnations and manifestations of the entity.
The film begins with a young woman running for her life from something unseen. She stops at a beach and calls her father, sad and remorseful for being a bad daughter. The next morning, the damsel is found brutally murdered, limbs broken and bones sticking out.
Meanwhile, Jay (Monroe), an average Michigan college student is out on a date with her hunky dreamboat, Hugh (Weary). Hugh begins spewing off about how he envies the innocence of young children and soon starts seeing things. He spots a young woman at the entrance to the theater and points this out to Jay, but Jay can't see a thing. Creeped out, they decide to leave the theater altogether. They meet up another day for a second date and this time, Hugh gets lucky in his car. After having sex, Hugh incapacitates Jay with chloroform and upon regaining her senses, wakes up tied to a wheelchair.
Hugh calms her down and explains that when they had sex back in his car, he passed on a curse to her. He further elaborates that from now on, Jay will be pursued by an entity that only the accursed can see, and that can take the appearance of any person, friend or stranger. Although this mysterious entity only moves at a slow, shuffling pace, it will kill her if it catches up and proceed to hunt the previous person who passed it on. In this case, that would be Hugh. Before freeing Jay and driving her home, Jay shows her a naked woman walking towards them then flees for his life.
It is here that viewers connect the death of the woman in the first scene since it is implied that Hugh had earlier slept with her, but the entity had unfortunately caught up with her. The next day, the police come knocking, looking for Jay in connection with the Girl's murder. It turns out that not only has Hugh gone AWOL, but he has also been living under a false identity. Back in school, Jay is haunted by IT constantly following her in a hospital gown but unseen by others. Her sister Kelly (Sepe) and close friends Yara and Paul see her dismay and offer to spend the night with Jay. At night, things only get creepier with windows getting mysteriously smashed. The others can't see the culprit, but Jay sees a blood-covered, half-naked woman eerily making her way towards them. Jay flees upstairs only to find a man with gouged eyes baying for her blood. Mortified, Jay can only make for the hills and gets out of the house to seek refuge in a nearby playground where her friends find her.
Their resourceful neighbor Greg (Zovato) offers to help and after some research discovers that Hugh's real name is Redmond Jeff. They all track him to his address where he explains that the only way to temporarily belay death is to have sex with someone else and pass the curse on. Greg drives them to his lake house for safety where Jay gets attacked by the entity in a horrendous array of guises. Jay tries to escape in Greg's car but crashes and wakes up in the hospital with a broken arm. Later on, Greg, who does not believe in anything supernatural, is more than willing to have sex with Jay. Worst decision ever. Days later, Jay sees the entity smashing Greg's window. After countless attempts of trying to warn Greg over the phone, Jay is too late. IT transforms into Greg's half-naked mother, knocks on his door and brutally murders Greg while Jay watches. Later on at the beach, Jay is apprehensive since IT is still after her. Paul offers to sleep with Jay and take the curse, but Jay refuses.
They draw up a plan to lure the entity into the university swimming pool and electrocute it to death. While Jay swims in the pool as bait, the entity has already manifested among them as Jay's father and is now trying to electrocute her in return. Paul draws out a gun and fires blindly at an invisible target, wounding Yara in the process, but also shooting the entity right in the head. After IT falls in the pool, they edge closer to see if it's dead, but it launches an arm and attempts to drown Jay. Paul pops off another round of bullets in the entity and frees Jay from death's clutches. The pool steadily fills with blood. Afterwards, Paul and Jay have sex and later walk down the street holding hands in relief, grateful that the ordeal is over. However, a dark, mysterious figure looms behind them, following them steadily, inching closer with each stride.
Production and Reception
While horror films typically fester in overly tight and claustrophobic spaces, Director David Mitchell thrives in open space because he knows just how infectious the premise of It Follows could be. The filming of It Follows took place from 2013 in Detroit Michigan with Director Mitchell opting to go with wide-angle lenses for an expansive look.
The premier for the film was at the May 17, 2014, Cannes festival. The movie was later theatrically released on February 2015 in France and the United Kingdom. Following its release to limited theatres in the United States and Canada, the film earned over $160,000 in the first opening week. By April 5th, the film had grossed $8.9 domestically and a worldwide total of $10.3 million.
Sequel
Due to the major success of the concept, co-president of Radius TWC Tom Quinn recently announced that the studio is interested in doing a sequel. Quinn has articulated the idea of flipping the concept a tad, with Maika or any other original character going back down through the chain to find out the exact origin of IT.
The film It Follows fancies the encroachment of mortality where the victims soon realize that they're trapped by inevitable circumstances. There's nothing more inherently frightening than the steady advancement of an evil entity that just keeps coming and will never, ever dissipate. Horror fans all around the globe can't wait to catch a glimpse of what will be an exciting, unnerving and bone-chilling feature.