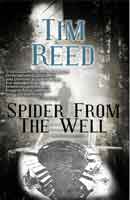 "Spider From the Well", written by Tim Reed, is an inventive novella that combines Lovecraftian horror with classic science fiction themes.  Using imaginative story telling, the book explores the deterioration of a man's sanity as he struggles to understand the world that seems to be changing without explanation.
Taking place in a tranquil English countryside, "Spider From The Well" follows a happily married couple as they begin a long awaited vacation.  While exploring the area together, the husband and wife discover a diary with a cryptic inscription buried near a well.  Overcoming some initial reluctance they begin reading the diary and are introduced to the life of M. Hattern and the events of 1899 that forever changed his life.  The initial journal of Victorian era observations quickly regresses as the journalist attempts to make sense of the creatures, events, and visions that are beginning to haunt him.
Expertly crafting the progression of madness and paranoia, Reed creates a chilling tale that will leave the reader questioning their own reality.  Through the use of well developed alternate histories, horrifying potential futures, and brooding creatures with terrifying motivates "Spider From The Well" is an engrossing novella with a surprising ending.  The use of the diary format allowed Reed to develop a character that was intriguing and a potentially unreliable narrator heightening the sense of horror and building madness.  However, the short length of the story made the conclusion feel a little rushed and some aspects of the book (the alternate futures and exploration of gods/myths) did not feel fully explored.
Overall, "Spider From The Well" by Tim Reed is a nicely developed novella that follows the tradition of H.P. Lovecraft horror with some strong science fiction aspects.  Incorporating ancient legends, and crafting alternate histories, Reed is able to create a strong plot that will leave readers wanting to know more.  I recommend this book to anyone who enjoys dark fiction that leaves you questioning your own stability.

Reviewed by Damnetha Jules
Damnetha  is a staff writer, horror book and movie critic.
More Horror Book Reviews