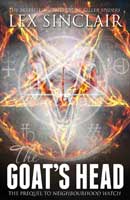 The book "The Goat's Head," written by Lex Sinclair, is an eerie book that dives into the scary world of demons and witchery.  The book has a haunting plotline based upon terrifying things happening to a completely innocent person, making it a satisfying read for those who enjoy horror type fiction stories.
The novel is about a twenty-two year old girl named Sofie Lackberg.  A stunning young women and brilliant law student, Sophie is of Swedish origin and resides in the United Kingdom.  In the beginning of the story, the naïve girl is trying to find a way to earn some spare cash and comes across a flyer advertising a small job taking care of the elderly.  She phones the lady who posted the flyer, a wealthy woman named Margaret with ailing parents that she needs someone to help care for on a particular evening.  After hearing that the job pays 150 British Pounds, Sofie accepts to work for her.  However, upon arriving at a gothic style home with a demon statue out front, she quickly regrets her decision.  Over the course of the night that she must stay there with the elderly couple, a number of frightening experiences happen to her, including being spied on through a hole while bathing and having the elderly people read her mind.  She ends up encountering danger after hitting her head, being surrounded by chanting individuals in cloaks, and the evil story continues from there.
The book is well written and Sinclair has an intriguing style of writing that makes the story not only easy to follow but engaging.  The pace of the book is fast in some parts and slows down in others, making it a perfect book for casual reading.  Sinclair does an excellent job of using a perfect balance of dialogue between the characters and descriptive text to really set each scene and help the reader visualize the setting.  Also, he does an excellent job of developing the characters in a way that makes them feel realistic.  While reading the book, it is hard to not feel terrified and upset over what is happening to Sofie because she is made out to sound like such a normal girl with terrible misfortune.
However, the book also has room to improve.  There are a number of obvious grammar and spelling mistakes sprinkled throughout the book which can throw off the reader and damage the flow of the book.  The small errors ultimately end up acting as a distraction from the content, making it a bit harder for the reader to lose themself in the book than it would be if there were no mistakes.  The writing is all excellent from a content standpoint, but it would be valuable for this book to go through one final round of post-editing.
Overall, "The Goat's Head," written by Lex Sinclair, is an excellent book that tells an unnerving tale of a young and ambitious girl whose plan to get ahead in life goes horribly wrong when she accepts a job offer that proves incredibly dangerous.  It is an exciting book that explores the petrifying world of demons and witchery, tossing readers into unfamiliar territory and leaving them there to experience fright alongside the book's main character, Sofie.  I would definitely recommend this book to anyone who enjoys horror, or even fantasy, fiction stories.

Reviewed by Damnetha Jules
Damnetha  is a staff writer, horror book and movie critic.
More Horror Book Reviews