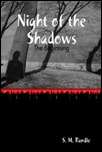 Book: Night Of The Shadows: The Beginning


Year:

2012


Publisher:

Lulu


Author:

S.M. Randle


Language:

English


Chapters:

51


Pages:

E-Book = 128, Print Length = 254


Type:

Novel
Author's Summary: A woman starving for love and affection is guided by forces that make her do unspeakable things. Things that make her famous. But it's not enough to make her happy for long. This horror book is set in the small town of Shelby North Carolina. It follows the struggles and crimes of a woman serial killer. The young woman is starving for love and affection and is led by forces that make her do outrageous things. Things that she begins to accept, love and enjoy.
Review: I was tickled pink with the writing style of first time author S.M. Randle. Night Of The Shadows: The Beginning left me wanting more. I read this horror novel straight though in one days' time and I got thinking…this can't be an author's first attempt at writing a novel, but it is. Night Of The Shadows: The Beginning is for everyone, it captures your attention while being inexpensive, thrilling, engaging and put simply a great read. Enough of my praise, let's get to the story.
Night Of The Shadows is basically about an African American woman named Bobbie Jean whom gets possessed by evil shadows. The shadows voices speak to her and tell Bobbie Jean to commit brutal crimes for her sexual pleasure and other odd reasons.
She then travels to a small town in North Carolina called Shelby where the shadows tell her to continue her wicked ways by kidnapping 5 different men. She inflicts differing tortuous methods on each of the men for Bobbie Jean's sickening sexual desires, and eventually to kill them with sharp bladed objects and by other means. During this process she falls in love with one of the abductees named Dr. Jason Glassam, so she saves him for last to convince the Doctor that they could have a future together.
While this mayhem is going on a little girl that goes by Sara can see what the shadows have been telling Bobbie Jean through her nightmares. Sara and her parents end up at the local police station to tell them about all of the missing guys. The cops initially dismiss their words, then after some time goes by, Sara meets up with JT (Jessica Taylor) who now work together to try and stop the demonic shadows and rescue the missing men.
Bobbie Jean at this time is a psychotic serial killer that's hell-bent on gratifying her needs which keep being spoken to her through the dark shadow's voices. When we get to the end of the book I was literally shocked at the open-ended nature of the story. Night Of The Shadows: The Beginning keeps you in suspense and demands that this becomes a  series, to continue the saga of the infamous Bobbie Jean Pratt and the shadows that continually coerce her and help her in her escapes.
Night Of The Shadows: The Beginning is way underpriced in my humble opinion. You can get it for the low price of $2.99 in electronic form. It is not available on physical paper yet. I highly recommend this novel to all horror readers, it is well worth the price, and if I was the author I would be charging $7.99 minimum, it is a gripping story from start to end. My ratings and suggestions are below.
Reviewer:

Dark Goddess 


Date:

08/17/2012


Rating:

10/10


Suggestion: E-Book:

Buy
Only Available In Digital Form

Book:

Night Of The Shadows


E-Book:

iTunes


E-Book:

 Barnes & Noble 


Social Media:

Lulu


Contact:

Email