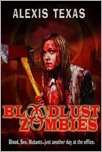 Movie: Bloodlust Zombies


Year:

2011


Studio:

Impulse-FX


Director:

Dan Lantz


Stars:

Alexis Texas, Janice Marie, Adam Danoff


Language:

English


Length:

76 Minutes


Sub-Genre:

Zombies
Plot: In this horror-comedy hybrid, a chemical spill at a weapons lab leads to a zombie outbreak. This spells big trouble for the employees trapped inside the facility after an emergency lockdown is declared to try to contain the menacing horde of zombies. The most inconceivable person out of all the workers steps up in a big way and tries to escape before the ravaging, blood-craving zombies infect everyone in sight.
Review: I sat down, popped in the DVD, and after 5 minutes, I knew I was going to hate this film. It is a zombie-comedy, or zombedy, as they're called now, with horrendous jokes, cheesy acting and wooden characters. These style horror films are a dime-a-dozen these days and most of them fail miserably, including Bloodlust Zombies.
For starters, the so-called zombies are nothing of the sort. Yes, I know, the infected and virus-ridden catch the zombie sub-genre, but I have no inkling why. The zombies in this are not the dead coming back to life. Instead, a spill of this newly devised chemical spreads through a laboratory turning people sick basically. How lame! It's funny because the infected people try so damn hard to act like zombies, but it is so poorly done it wouldn't convince a kindergartener.
The leading actress is a porn-star, Alexis Texas. She uses her stage name, which I don't blame her, I wouldn't want my real name associated with this horror film either. She does appear topless in many scenes, along with some other women, which is the only positive I could muster from Bloodlust Zombies.
Thank the high heavens that this film only runs for slightly over an hour, because I don't think I could of took much more of this ultra-low junk of a horror movie. If you see or hear about Bloodlust Zombies, please let it go in one ear and out the other, cause it is not worth wasting your time and hard earned money.
Reviewer:

BillChete


Date:

06/22/2012


Rating:

1/10


Recommendation:

Avoid

Trailer:

Watch


DVD:

Amazon


BluRay:

N/A


Social Media:

Facebook