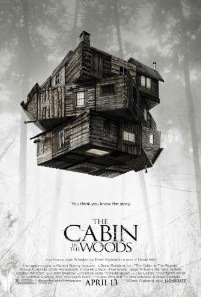 Movie:

The Cabin In The Woods


Year:

2012


Studio:

Metro-Goldwyn-Mayer


Director:

Drew Goddard


Language:

English


Length:

95 Minutes


Sub-Genre:

Zombie
Plot: Five college-age men and women travel to a cabin in the woods for a weekend getaway, but they're being watched and stalked by several, evil onlookers who seek their demise.
Review: I have tried to stop watching trailers altogether precisely because of movies like "The Cabin in the Woods." You should go into some movies blind, with no foreknowledge about them whatsoever. "The Cabin in the Woods" is one of those movies.
So, if you haven't seen the previews yet, then keep yourself in the dark. You can trust this review not to spoil any surprises.
Though it's not really a horror comedy, this movie's humorous taglines give you a sense of the attitudes of the writers behind this film. There are funny moments in this movie, but the most fitting tagline for "The Cabin in the Woods" is this one: "You think you know the story."
Yeah, you think you know the story (but trust me, you don't), because the writers referred to above were producer Joss Whedon and director Drew Goddard. The latter also wrote "Cloverfield" (2008) and was a contributor on the TV series "Lost," from 2005 to 2008.
So, after realizing that Whedon and Goddard were in charge of this project, and after reading those comedic taglines, you know this isn't going to be your everyday horror film. And it's not.
At first, "The Cabin in the Woods" seems like it's going to be a conventional zombie flick with some extra, unconventional characters who don't seem to be a part of the movie. But there's much more to it.
Most horror fans will spend the first half of this movie asking themselves, "What the hell?" and thinking it's too tame and not hard-core enough to be true horror. That's how I felt. But like most horror movies, it gets progressively more extreme and more bloody, and it ups the ante to a ridiculous degree.
Even so, "The Cabin in the Woods" is still very entertaining for at least a viewing. At one point in the film, the bloodshed approaches "Dead Alive" (1992) levels, except not as creatively and this movie uses some sketchy-looking CGI bloodletting, instead of practical effects.
I suspect that the most traditional fans will ultimately disapprove of the liberties and twists this movie takes with the horror genre. In other words, these screenwriters take classic horror elements (and characters) and present them in a satirical way that I can only describe as "playful," or perhaps the British word "cheeky" fits even better.
If you decide to see this movie, here is a few spoiler-free list that you should watch for: The presentation of the film's title may be the most obnoxious, and therefore, amusing film title presentation I've ever seen. I think the filmmakers were riffing on the jump scare. "The Cabin in the Woods" simultaneously celebrates and ridicules the conventions of the horror genre, somewhat like we've seen in the "Scream" franchise. And if you're looking at the subtext, the writers seem to be commenting on how we justify and rationalize our enjoyment of watching unintelligent people get slaughtered by depraved maniacs or monsters.
The five, archetypal horror victims are all likable and attractive or funny. You'll recognize some of the actors right away, such as Chris Hemsworth ("A Perfect Getaway," "Thor") and Richard Jenkins ("Let Me In," "Step Brothers"). And there's a bit of nudity, sensual dancing and, of course, a good-looking blonde making out with a stuffed wolf's head.
If you think I've spent this review telling you what this movie's not, instead of what it is, you're right. As I wrote initially, "The Cabin in the Woods" is the kind of film whose enjoyment is delivered to its audience through its weird revelations. Beyond that, I can't see this movie having nearly as much value upon repeated viewings. Therefore, my final rating is a 7, and I'm recommending it only as a Rental, even though I think the die-hard horror fans will probably scoff at this bizarre but loving tribute to their beloved genre.
By the way, speaking of movie ads, the previews that precede "The Cabin in the Woods" include a promising-looking trailer for "Chernobyl Diaries," which is scheduled for release on May 25, 2012. Expect another Jay of the Dead review for that one. I'm sold.
To hear horror movie reviews from Jay of the Dead and his cohorts, listen to Horror Metropolis.