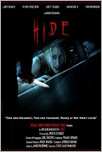 Movie: Hide


Year:

2011


Studio:

Brandi Brothers Productions


Director:

Jamison Brandi


Language:

English


Length:

84 Minutes


Sub-Genre:

Slasher
Plot: A high-school cheerleader and her friends become embroiled in a lethal game of hide and seek on Mischief Night, the night before Halloween, even though a statewide curfew has been in effect since a horrific murder just a year before.
Review: I was excited when I popped the DVD in for Hide as it sounded like a current day slasher, and I value the sub-genre highly. It is the category that got me into horror in the first place. But, and this is a big but, Hide simply manages to screw-up the slasher scenario almost on every front.
The whole concept to Hide is one that does work, a masked killer, always a positive, is stalking young teenage girls while prodding them on the phone with obscenities ala Scream. During the final conversations he tells the girls we are going to play Hide and Seek, the popular childhood game. As the charade begins the killer is stalking his victims as he is counting out loud, 1 – 1000, 2 – 1000, 3 – 1000 and so on, until he finds them and ultimately kills them.
As a slasher you expect to see some kills, you see absolutely nothing. Not only that the story goes back-and-forth between many characters in effect losing the tension that slashers bring. The scariness of Hide is basically non-existent. It's a pity too because some of the characters did have a likability factor but the build-ups were overly drawn out and poorly executed. More negatives include; overused score that got annoying 20 minutes in, then you got a whole hour left with the same music, and the story shifts amongst characters and one of these are filmed in a crappy cinematic style with sepia tones and shaky cam to the point you have no idea what is happening.
Hide is a new DVD release that hit the shelves on the end of October, and I am here to tell you, as a total slasher fan, pass this one by and walk away. The movie is redundant, weak and overall a very poor horror movie. If you are looking for a current day slasher that will scare you, I will throw out a few suggestions for you; Chain Letter and Hatchet 2.