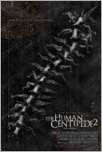 Movie: The Human Centipede II (Full Sequence)


Year:

2011


Studio:

Six Entertainment Company


Director:

Tom Six


Language:

English


Length:

85 Minutes


Sub-Genre:

Torture, Thriller
Plot: Disturbed loner Martin is so obsessed with the shock horror film The Human Centipede that he decides to replicate that film's grisly experiment. In this meta-sequel, the stakes are raised, with 12 unlucky souls enduring surgical hell.
Review: I want to start off by saying that I really enjoyed the first movie, it was highly original and I found it to be very entertaining, sick and demented and I rated it as one to watch. When I heard there was going to be a sequel, I was ecstatic and couldn't wait to get my hands on it. I was pleased to find out that Amazon's Video on Demand was playing this film.
For my review I will start with the negatives of The Human Centipede 2; number one and foremost the film is in black & white. The writer/director Tom Six thought that this would raise the bar in the scare factor of the movie and make it out to be more believable. I totally disagree! I think it would of been so much better in color, there were so many kill scenes and blood spattering that color would of made it so much more intense. I love gory movies and the gorier the better and with this movie being in black & white I think it takes away from that so that it doesn't seem as gruesome.
Another negative I had was there was very little talking in the movie. The lead character does not speak a word, he utterly mumbles a few things and makes some sound effects. It is not so much that I wanted to hear him talk because I think that it made him out to be much more deranged and psychotic, but I think there should of been a little more conversations throughout.
One final negative, I wanted to see more of the actual surgeries of attaching 12 people together. There were only a few brief scenes where you see some cutting and some stapling of the mouths to the anus. I am the type of horror fan that likes to see everything, the gorier the better. Just would of liked some more in there.
Now for the positives; I really like how they incorporated the first movie into this one with the lead character watching the actual movie and attaining his disgusting sadistic and inhuman idea. Also I liked the fact that they had one of the actual stars in the first one, which is Ashlynn Yennie. This sequel is much more vulgar, disgusting and downright nauseating. Plenty of bashing in heads and blood spattering kills.
The lead role played by Laurence Harvey was perfect! You could not of gotten a better person for this role. He had me convinced that he was totally out there I mean outer space out there in his role. His demeanor, fat belly, bulging eyes and evil sick little chuckles made this the perfect part for him.
I will finish up by saying that the director left the film open for another sequel. This movie is definitely not for the weak or faint hearted and you might want to have a vomit bag handy especially for one of scenes near the end of the movie. I really liked the ending, I was surprised and shocked! True horror fans, this is one movie you will want to see, that is if you can stomach it!!!